An evening pause: From the youtube page:
The Puttin' On The Ritz music video is a creative collaboration between Alpert, artist Glenn Kaino and filmmaker Afshin Shahidi with choreographers Napoleon & Tabitha D'umo from So You Think You Can Dance and produced by Kerith Lemon. One long camera shot follows the lead dancer, Vincent Noiseux on a musical journey and features musicians Lani Hall, Bill Cantos, Hussain Jiffry and Michael Shapiro as well as corps dancers like Kherington Payne and others that have been seen on So You Think You Can Dance, America's Best Dance Crew, Dancing with the Stars, This is It, Step Up and more.
Hat tip Tom Biggar, who notes that Albert makes some cameos, which I think includes both the bus driver and the bartender.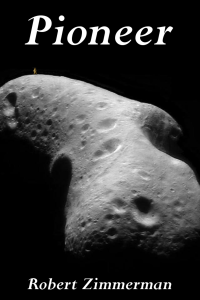 From the press release: From the moment he is handed a possibility of making the first alien contact, Saunders Maxwell decides he will do it, even if doing so takes him through hell and back.
Unfortunately, that is exactly where that journey takes him. The vision that Zimmerman paints of vibrant human colonies on the Moon, Mars, the asteroids, and beyond, indomitably fighting the harsh lifeless environment of space to build new societies, captures perfectly the emerging space race we see today. He also captures in Pioneer the heart of the human spirit, willing to push forward no matter the odds, no matter the cost. It is that spirit that will make the exploration of the heavens possible, forever, into the never-ending future. Available everywhere for $3.99 (before discount) at
amazon
,
Barnes & Noble
, all ebook vendors, or direct from the ebook publisher,
ebookit
. And if you buy it from
ebookit
you don't support the big tech companies and I get a bigger cut much sooner.