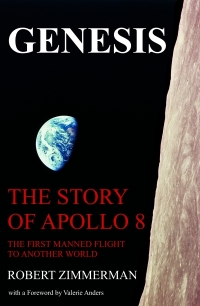 On Christmas Eve 1968 three Americans became the first humans to visit another world. What they did to celebrate was unexpected and profound, and will be remembered throughout all human history. Genesis: the Story of Apollo 8, Robert Zimmerman's classic history of humanity's first journey to another world, tells that story, and it is now available as both an ebook and an audiobook, both with a foreword by Valerie Anders and a new introduction by Robert Zimmerman.
The ebook is available everywhere for $5.99 (before discount) at
amazon
, or direct from my ebook publisher,
ebookit
.
The audiobook is also available at all these vendors, and is also
free with a 30-day trial membership to Audible.
"Not simply about one mission, [Genesis] is also the history of America's quest for the moon... Zimmerman has done a masterful job of tying disparate events together into a solid account of one of America's greatest human triumphs." --San Antonio Express-News
An evening pause: My posting on Sunday will be light until the evening, as Diane and I will be doing a 13.2 mile hike up Ventana Canyon to a giant natural bridge called the Window. This canyon is in the Santa Catalina mountains that overlook Tucson. These mountains are quite rugged, with some intense elevation gain in a very short time, comparable to the Grand Canyon. For this hike we will gain 4,000 feet in 6.6 miles.
Below is a video of this hike but only going about halfway up the canyon.
Readers!
We are now in the third week of my annual July fund-raiser for Behind the Black. My deep thanks to everyone who has so far donated or subscribed. The response this year has been wonderful.

We are not done yet. This monthly fund-raiser is now half over, and I am hoping the second half will result in as many donations as the first half did. If it does, I will remain free to continue my writing as I see fit, unblemished by the efforts of others to squelch my perspective in this increasingly intolerant world.

This year's fund-raising drive is also significant in that it celebrates the 10th anniversary of this website's founding. It is hard to believe, but I have been doing this for a full decade, during which I have written more than 22,000 posts, of which more than 1,000 were essays and almost 2,600 were evening pauses.

Therefore, I hope you will please consider donating to Behind the Black, by giving either a one-time contribution or a regular subscription, as outlined in the tip jar below. Your support will allow me to continue covering science and culture as I have for the past twenty years, independent and free from any outside influence.
Regular readers can support Behind The Black with a contribution via paypal:
If Paypal doesn't work for you, you can support Behind The Black directly by sending your donation by check, payable to Robert Zimmerman, to

Behind The Black
c/o Robert Zimmerman
P.O.Box 1262
Cortaro, AZ 85652