An evening pause: The last part of "The Guns of John Browning" from Tales of the Gun.
The documentary correctly honors Browning for the quality of his designs and workmanship. To me, it is more important to honor him for making the weapons that allowed the United States to defend freedom in the twentieth century. Without these tools in the hands of our soldiers, the wars would have been longer and many more lives would have been lost. And worse, the fascists and Nazis and dictators might have won.
As George Bernard Shaw wrote in Major Barbara, "The people must have power."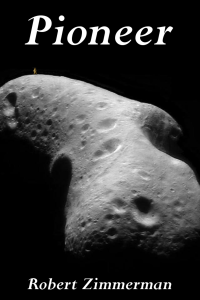 From the press release: From the moment he is handed a possibility of making the first alien contact, Saunders Maxwell decides he will do it, even if doing so takes him through hell and back.
Unfortunately, that is exactly where that journey takes him. The vision that Zimmerman paints of vibrant human colonies on the Moon, Mars, the asteroids, and beyond, indomitably fighting the harsh lifeless environment of space to build new societies, captures perfectly the emerging space race we see today. He also captures in Pioneer the heart of the human spirit, willing to push forward no matter the odds, no matter the cost. It is that spirit that will make the exploration of the heavens possible, forever, into the never-ending future. Available everywhere for $3.99 (before discount) at
amazon
,
Barnes & Noble
, all ebook vendors, or direct from the ebook publisher,
ebookit
. And if you buy it from
ebookit
you don't support the big tech companies and I get a bigger cut much sooner.