An evening pause: From the 1958 movie of the great Rodgers & Hammerstein musical, South Pacific.
I first saw this movie as a child when I was around five years old. I didn't understand the story really, and was especially puzzled by some lyrics, especially because my young mind took them very literally. (Just consider "I'm going wash that man right out of my hair!")
What I do remember was that this song became one of my favorites throughout my early childhood. In hearing it recently again, I was struck by something I clearly remember, from that childhood. The song is about the draw of love and desire, which is what Bali Ha'i partly represents. However, Hammerstein's lyrics refer to more, to the greater magic hidden in life everywhere, the mystery that lies behind the black, you might say. It is a theme he repeated in many of the songs he wrote for Richard Rodgers..
What struck me now was how I clearly remember, as a child of five, being very aware of this second somewhat sophisticated meaning. At first I was a little surprised that a child of five could comprehend such concepts, but then as Wordsworth wrote,
The Soul that rises with us, our life's star,
Hath had elsewhere its setting,
And cometh from afar:
Not in entire forgetfulness,
and not in utter nakedness,
But trailing clouds of glory do we come
From God, who is our home:
Heaven lies about us in our infancy!
As a child I knew nothing of the sexual draw of Bali Ha'i, but I understood its mystical nature quite naturally. I have since spent my life trying to hold onto those "clouds of glory," because they help connect us better to the enigma that is existence.
This version uses Juanita Hall's own voice, from an earlier recording. For the movie they dubbed her singing because Rodgers no longer thought her aging voice sounded right.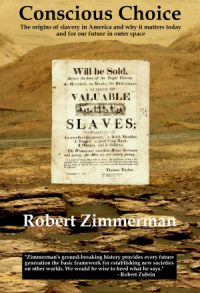 Now available in hardback and paperback as well as ebook!
From the press release: In this ground-breaking new history of early America, historian Robert Zimmerman not only exposes the lie behind The New York Times 1619 Project that falsely claims slavery is central to the history of the United States, he also provides profound lessons about the nature of human societies, lessons important for Americans today as well as for all future settlers on Mars and elsewhere in space.
Conscious Choice: The origins of slavery in America and why it matters today and for our future in outer space
, is a riveting page-turning story that documents how slavery slowly became pervasive in the southern British colonies of North America, colonies founded by a people and culture that not only did not allow slavery but in every way were hostile to the practice.
Conscious Choice
does more however. In telling the tragic history of the Virginia colony and the rise of slavery there, Zimmerman lays out the proper path for creating healthy societies in places like the Moon and Mars.
"Zimmerman's ground-breaking history provides every future generation the basic framework for establishing new societies on other worlds. We would be wise to heed what he says." —Robert Zubrin, founder of founder of the Mars Society.
All editions are available at Amazon, Barnes & Noble, and all book vendors, with the ebook priced at $5.99 before discount. The ebook can also be purchased direct from my ebook publisher, ebookit, in which case you don't support the big tech companies and I get a bigger cut much sooner.
Autographed printed copies are also available at discount directly from me (hardback $24.95; paperback $14.95; Shipping cost for either: $5.00). Just email me at zimmerman @ nasw dot org.