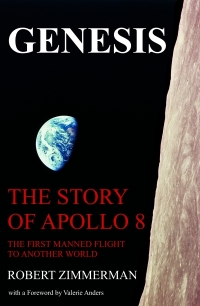 On Christmas Eve 1968 three Americans became the first humans to visit another world. What they did to celebrate was unexpected and profound, and will be remembered throughout all human history. Genesis: the Story of Apollo 8, Robert Zimmerman's classic history of humanity's first journey to another world, tells that story, and it is now available as both an ebook and an audiobook, both with a foreword by Valerie Anders and a new introduction by Robert Zimmerman.
The ebook is available everywhere for $5.99 (before discount) at
amazon
, or direct from my ebook publisher,
ebookit
.
The audiobook is also available at all these vendors, and is also
free with a 30-day trial membership to Audible.
"Not simply about one mission, [Genesis] is also the history of America's quest for the moon... Zimmerman has done a masterful job of tying disparate events together into a solid account of one of America's greatest human triumphs." --San Antonio Express-News
An evening pause: From the 1958 movie of the great Rodgers & Hammerstein musical, South Pacific.
I first saw this movie as a child when I was around five years old. I didn't understand the story really, and was especially puzzled by some lyrics, especially because my young mind took them very literally. (Just consider "I'm going wash that man right out of my hair!")
What I do remember was that this song became one of my favorites throughout my early childhood. In hearing it recently again, I was struck by something I clearly remember, from that childhood. The song is about the draw of love and desire, which is what Bali Ha'i partly represents. However, Hammerstein's lyrics refer to more, to the greater magic hidden in life everywhere, the mystery that lies behind the black, you might say. It is a theme he repeated in many of the songs he wrote for Richard Rodgers..
What struck me now was how I clearly remember, as a child of five, being very aware of this second somewhat sophisticated meaning. At first I was a little surprised that a child of five could comprehend such concepts, but then as Wordsworth wrote,
The Soul that rises with us, our life's star,
Hath had elsewhere its setting,
And cometh from afar:
Not in entire forgetfulness,
and not in utter nakedness,
But trailing clouds of glory do we come
From God, who is our home:
Heaven lies about us in our infancy!
As a child I knew nothing of the sexual draw of Bali Ha'i, but I understood its mystical nature quite naturally. I have since spent my life trying to hold onto those "clouds of glory," because they help connect us better to the enigma that is existence.
This version uses Juanita Hall's own voice, from an earlier recording. For the movie they dubbed her singing because Rodgers no longer thought her aging voice sounded right.
Readers!
My July fund-raiser for Behind the Black is now over. The support from my readers was unprecedented, making this July campaign the best ever, twice over. What a marvelous way to celebrate the website's tenth anniversary!

Thank you! The number of donations in July, and continuing now at the beginning of August, is too many for me to thank you all personally. Please forgive me by accepting my thank you here, in public, on the website.

If you did not donate or subscribe in July and still wish to, note that the tip jar remains available year round.
Regular readers can support Behind The Black with a contribution via paypal:
If Paypal doesn't work for you, you can support Behind The Black directly by sending your donation by check, payable to Robert Zimmerman, to

Behind The Black
c/o Robert Zimmerman
P.O.Box 1262
Cortaro, AZ 85652