An evening pause: Hat tip Jim Mallamace, who notes,
Talk about an eclectic Evening Pause. "Csardas" was written by Italian, Vittorio Monti, in the early 20th century. "Gypsy Airs" was composed by Spaniard, Pablo de Sarasate, in the late 19th century. Both compositions are inspired by Hungarian music. And the orchestra is North Korean.
The band was organized by North Korea's Supreme Leader, Kim Jong Un. This performance was from 2012. From the link this interesting tidbit:
In December 2015, Kim Jong-un sent the band to perform in a series of shows in Beijing to improve relations between China and North Korea; these would have been the band's first performances outside of North Korea. However, the band left Beijing on a scheduled flight to Pyongyang only a few hours before their performance was scheduled. China's Xinhua news agency stated that all of the band's performances had been cancelled due to "communication issues at the working level." The Korea Herald reported that North Korea had cancelled the tour because China had requested that North Korea's missiles should not be shown during performances.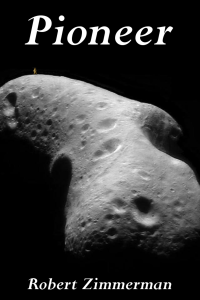 From the press release: From the moment he is handed a possibility of making the first alien contact, Saunders Maxwell decides he will do it, even if doing so takes him through hell and back.
Unfortunately, that is exactly where that journey takes him.
The vision that Zimmerman paints of vibrant human colonies on the Moon, Mars, the asteroids, and beyond, indomitably fighting the harsh lifeless environment of space to build new societies, captures perfectly the emerging space race we see today.
He also captures in Pioneer the heart of the human spirit, willing to push forward no matter the odds, no matter the cost. It is that spirit that will make the exploration of the heavens possible, forever, into the never-ending future.
Available everywhere for $3.99 (before discount) at
amazon
,
Barnes & Noble
, all ebook vendors, or direct from the ebook publisher,
ebookit
. And if you buy it from
ebookit
you don't support the big tech companies and I get a bigger cut much sooner.