An evening pause: I really have no idea who is performing this, as the Vimeo link provided no information. Web searches also came up dry. I couldn't even find the lyrics.
Nonetheless, it is beautiful, and worth more than one listen.
UPDATE: I have finally located a description of this work of art. It is called The Wound in the Water,
music by Kim André Arneson (2016); libretto by Euan Tait (August 2015). This is from part 2, "The cry of the exile" and is called "Song of the Sea Exile." The lyrics:
I, the exile,
my heart burning,
my lost life
a terrible fire,
songs of loved ones
crying all around me.
Oh endless,
endless home, the sea.
Oh my missing,
I am listening,
yet your silence
cannot answer me.
There, we left
our singing unfinished,
and our lives now
fall into the endless sea.
This the broken
gift of love:
the exile calls,
remembered names.
What you were
scorched on me,
your wounded names
sung to the endless sea.
Waves like voices
roar around you:
we're not silenced,
but cry out like the
sea.
Your anger,fiery, living
is like love
that bleeds
like the endless sea.
Oh our exile,
torn by love,
singing words
you can no longer sing,
where's the shores,
the harbour, the horizon,
wanderer,
calling to the endless sea
calling to the endless sea?
Hat tip Edward Thelen.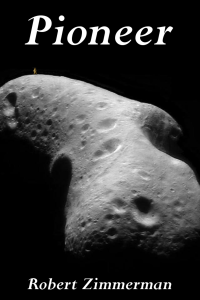 From the press release: From the moment he is handed a possibility of making the first alien contact, Saunders Maxwell decides he will do it, even if doing so takes him through hell and back.
Unfortunately, that is exactly where that journey takes him. The vision that Zimmerman paints of vibrant human colonies on the Moon, Mars, the asteroids, and beyond, indomitably fighting the harsh lifeless environment of space to build new societies, captures perfectly the emerging space race we see today. He also captures in Pioneer the heart of the human spirit, willing to push forward no matter the odds, no matter the cost. It is that spirit that will make the exploration of the heavens possible, forever, into the never-ending future. Available everywhere for $3.99 (before discount) at
amazon
,
Barnes & Noble
, all ebook vendors, or direct from the ebook publisher,
ebookit
. And if you buy it from
ebookit
you don't support the big tech companies and I get a bigger cut much sooner.