An evening pause: In 1969 the lowly New York Mets, doormats in the National League from the moment the team was created in 1962, came out of nowhere to win the pennant and the World Championship of baseball. Forty-two years ago tonight I and my friend Lloyd attended the game in which the Mets clinched first place in the National League Eastern Division. Below is video showing highlights of the game plus the final out, with the crowd pouring onto the field. Though you can't see me, I am in that crowd, jumping for joy at this most unlikely sports miracle. There was no rioting, only happy fans chanting "We're number one!" in exuberant disbelief.
And I still have that small piece of turf from Shea Stadium, collected on that night, proof that the unexpected and improbable is always possible.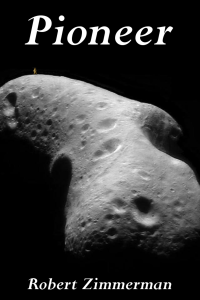 From the press release: From the moment he is handed a possibility of making the first alien contact, Saunders Maxwell decides he will do it, even if doing so takes him through hell and back.
Unfortunately, that is exactly where that journey takes him. The vision that Zimmerman paints of vibrant human colonies on the Moon, Mars, the asteroids, and beyond, indomitably fighting the harsh lifeless environment of space to build new societies, captures perfectly the emerging space race we see today. He also captures in Pioneer the heart of the human spirit, willing to push forward no matter the odds, no matter the cost. It is that spirit that will make the exploration of the heavens possible, forever, into the never-ending future. Available everywhere for $3.99 (before discount) at
amazon
,
Barnes & Noble
, all ebook vendors, or direct from the ebook publisher,
ebookit
. And if you buy it from
ebookit
you don't support the big tech companies and I get a bigger cut much sooner.