An evening pause: Though written as celebration of the birth of the baby Jesus, I think the lyrics really apply all newborns. As William Wordsworth said, we arrive "trailing clouds of glory."
past three o'clock,
on a cold frosty morning,
past three o'clock,
good morrow masters all.

born is a baby
gentle as may be,
son of the Eternal
Father supernal.

mid earth rejoices
hearing such voices.
ne'ertofore so well
carolling nowell!

cheese from the dairy
bring they for Mary,
and, not for money,
butter and honey.

thus they: i pray you,
up sirs, nor stay you
till ye confess him
likewise and bless him.
Hat tip Edward Thelen.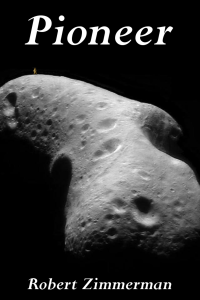 From the press release: From the moment he is handed a possibility of making the first alien contact, Saunders Maxwell decides he will do it, even if doing so takes him through hell and back.
Unfortunately, that is exactly where that journey takes him. The vision that Zimmerman paints of vibrant human colonies on the Moon, Mars, the asteroids, and beyond, indomitably fighting the harsh lifeless environment of space to build new societies, captures perfectly the emerging space race we see today. He also captures in Pioneer the heart of the human spirit, willing to push forward no matter the odds, no matter the cost. It is that spirit that will make the exploration of the heavens possible, forever, into the never-ending future. Available everywhere for $3.99 (before discount) at
amazon
,
Barnes & Noble
, all ebook vendors, or direct from the ebook publisher,
ebookit
. And if you buy it from
ebookit
you don't support the big tech companies and I get a bigger cut much sooner.