An evening pause: From the 1936 movie adaptation of the Jerome Kern & Oscar Hammerstein Broadway musical Showboat. While some of the visuals are a bit overstated and feel a bit preachy, this is still the best movie version of this song I have seen. Rather than strut about with big visuals, the film focuses on Robeson, who sings the song introspectively, as if it is something he is thinking.
A bit of trivia: The film's director was James Whale, the man who made the 1935 classic The Bride of Frankenstein.
Hat tip Edward Thelen.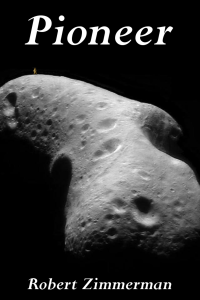 From the press release: From the moment he is handed a possibility of making the first alien contact, Saunders Maxwell decides he will do it, even if doing so takes him through hell and back.
Unfortunately, that is exactly where that journey takes him.
The vision that Zimmerman paints of vibrant human colonies on the Moon, Mars, the asteroids, and beyond, indomitably fighting the harsh lifeless environment of space to build new societies, captures perfectly the emerging space race we see today.
He also captures in Pioneer the heart of the human spirit, willing to push forward no matter the odds, no matter the cost. It is that spirit that will make the exploration of the heavens possible, forever, into the never-ending future.
Available everywhere for $3.99 (before discount) at
amazon
,
Barnes & Noble
, all ebook vendors, or direct from the ebook publisher,
ebookit
.