An evening pause: Tomorrow is the Fourth of July, in which lovers of freedom and individual rights celebrate the signing of the Declaration of Independence, where by this nation committed itself forever to providing its citizens "the right to life, liberty, and the pursuit of happiness."
Those words were written by Thomas Jefferson. In tonight's evening pause, Steve Edenbo as Thomas Jefferson recites Jefferson's thoughts on the meaning of his own words, taken from a letter he wrote just prior to the 50th anniversary of that signing in 1826, and mere weeks from his death.
May true Americans never stop honoring these words, and that man.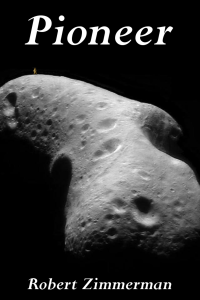 From the press release: From the moment he is handed a possibility of making the first alien contact, Saunders Maxwell decides he will do it, even if doing so takes him through hell and back.
Unfortunately, that is exactly where that journey takes him. The vision that Zimmerman paints of vibrant human colonies on the Moon, Mars, the asteroids, and beyond, indomitably fighting the harsh lifeless environment of space to build new societies, captures perfectly the emerging space race we see today. He also captures in Pioneer the heart of the human spirit, willing to push forward no matter the odds, no matter the cost. It is that spirit that will make the exploration of the heavens possible, forever, into the never-ending future. Available everywhere for $3.99 (before discount) at
amazon
,
Barnes & Noble
, all ebook vendors, or direct from the ebook publisher,
ebookit
. And if you buy it from
ebookit
you don't support the big tech companies and I get a bigger cut much sooner.