An evening pause: This was filmed in 1957, and was almost certainly made to be shown as part of Disney's weekly television show series for kids that began in 1954 and was one of television's most popular shows in the 1960s. It describes one of the most important technical developments in animation, developed by Disney, until the arrival of computers.
To repeat: This was made for kids, yet it is thoughtful, entertaining, educational, and quite detailed in the information being conveyed. It treats its young audience with great respect and dignity.
I generally do not watch children's shows today, but the few that I have seen have generally been quite shallow, overwrought, and would have insulted me, when I was a child. I don't know if today's kids would react the same today, because when I was a child Disney's show was somewhat typical. I expected to be treated with respect. Today's kids might not have that expectation.
Hat tip Wayne DeVette.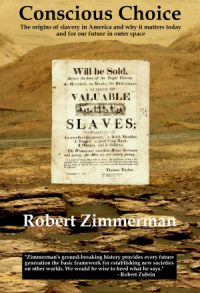 From the press release: In this ground-breaking new history of early America, historian Robert Zimmerman not only exposes the lie behind The New York Times 1619 Project that falsely claims slavery is central to the history of the United States, he also provides profound lessons about the nature of human societies, lessons important for Americans today as well as for all future settlers on Mars and elsewhere in space.
Conscious Choice: The origins of slavery in America and why it matters today and for our future in outer space
, is a riveting page-turning story that documents how slavery slowly became pervasive in the southern British colonies of North America, colonies founded by a people and culture that not only did not allow slavery but in every way were hostile to the practice.
Conscious Choice
does more however. In telling the tragic history of the Virginia colony and the rise of slavery there, Zimmerman lays out the proper path for creating healthy societies in places like the Moon and Mars.
"Zimmerman's ground-breaking history provides every future generation the basic framework for establishing new societies on other worlds. We would be wise to heed what he says." —Robert Zubrin, founder of founder of the Mars Society.
Available everywhere for $3.99 (before discount) at Amazon, Barnes & Noble, and all ebook vendors, or direct from the ebook publisher, ebookit. And if you buy it from ebookit you don't support the big tech companies and I get a bigger cut much sooner.