An evening pause: This was filmed in 1957, and was almost certainly made to be shown as part of Disney's weekly television show series for kids that began in 1954 and was one of television's most popular shows in the 1960s. It describes one of the most important technical developments in animation, developed by Disney, until the arrival of computers.
To repeat: This was made for kids, yet it is thoughtful, entertaining, educational, and quite detailed in the information being conveyed. It treats its young audience with great respect and dignity.
I generally do not watch children's shows today, but the few that I have seen have generally been quite shallow, overwrought, and would have insulted me, when I was a child. I don't know if today's kids would react the same today, because when I was a child Disney's show was somewhat typical. I expected to be treated with respect. Today's kids might not have that expectation.
Hat tip Wayne DeVette.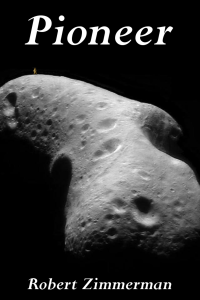 From the press release: From the moment he is handed a possibility of making the first alien contact, Saunders Maxwell decides he will do it, even if doing so takes him through hell and back.
Unfortunately, that is exactly where that journey takes him. The vision that Zimmerman paints of vibrant human colonies on the Moon, Mars, the asteroids, and beyond, indomitably fighting the harsh lifeless environment of space to build new societies, captures perfectly the emerging space race we see today. He also captures in Pioneer the heart of the human spirit, willing to push forward no matter the odds, no matter the cost. It is that spirit that will make the exploration of the heavens possible, forever, into the never-ending future. Available everywhere for $3.99 (before discount) at
amazon
,
Barnes & Noble
, all ebook vendors, or direct from the ebook publisher,
ebookit
. And if you buy it from
ebookit
you don't support the big tech companies and I get a bigger cut much sooner.