An evening pause: For tonight, the anniversary of the Japanese sneak attack on Pearl Harbor, I think this documentary created by Frank Capra for the U.S. government in 1943 is most appropriate.
Though created to rally Americans to the war effort, the film is not propaganda. It is a remarkably accurate telling of the history leading up to Pearl Harbor in detailing how Hitler was able to gain control of almost all of Europe, through lies, force, and the weak-kneed opposition of his opponents. Only with Soviet Russia and its secret pact with Germany to divide up Poland does the film fail to tell the facts thoroughly, but here it fails by omission, not lies. In the end, however, it is accurate, because the Soviet Union's pact, intended to bring it security from German invasion, failed. Hitler had lied once again, and the U.S.S.R. became only another victim of his greed for power.
It is worthwhile for Americans to watch it now, because the same lies and greed for power is eating away at our own country from within. Any honest open-minded viewing of this mid-20th century history cannot help but see the parallels.
I should add that Capra knew how to make movies, and he made sure this history was told in a riveting and compelling manner. You will not be bored.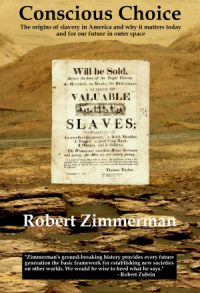 Now available in hardback and paperback as well as ebook!
From the press release: In this ground-breaking new history of early America, historian Robert Zimmerman not only exposes the lie behind The New York Times 1619 Project that falsely claims slavery is central to the history of the United States, he also provides profound lessons about the nature of human societies, lessons important for Americans today as well as for all future settlers on Mars and elsewhere in space.
Conscious Choice: The origins of slavery in America and why it matters today and for our future in outer space
, is a riveting page-turning story that documents how slavery slowly became pervasive in the southern British colonies of North America, colonies founded by a people and culture that not only did not allow slavery but in every way were hostile to the practice.
Conscious Choice
does more however. In telling the tragic history of the Virginia colony and the rise of slavery there, Zimmerman lays out the proper path for creating healthy societies in places like the Moon and Mars.
"Zimmerman's ground-breaking history provides every future generation the basic framework for establishing new societies on other worlds. We would be wise to heed what he says." —Robert Zubrin, founder of founder of the Mars Society.
All editions are available at Amazon, Barnes & Noble, and all book vendors, with the ebook priced at $5.99 before discount. All editions can also be purchased direct from the ebook publisher, ebookit, in which case you don't support the big tech companies and the author gets a bigger cut much sooner.
Autographed printed copies are also available at discount directly from me (hardback $24.95; paperback $14.95; Shipping cost for either: $5.00). Just email me at zimmerman @ nasw dot org.