The Chronological Encyclopedia of Discoveries in Space – Autographed Copy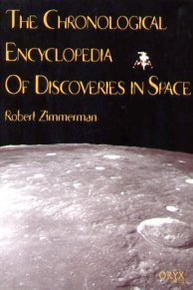 Originally from Oryz Press, February 2000 now ABC-CLIO Publishing.
"If you want to know about every spacecraft ever launched and what each mission accomplished, this handy reference volume . . . is just for you." --Astronomy
"Zimmerman, an essayist and historian of space, has created an essential tool for 'space junkies' and the libraries that serve them. . . . Not only is the book useful for quick fact checks but it invites readers to stay awhile. . . . If humans launched it into space, you can read about it here." --Booklist
"The Chronological Encylopedia of Discoveries in Space is no passionless compendium of information. Robert Zimmerman's fact-filled reports, which cover virtually every spacecraft or probe to have ventured into the heavens, relate the scientific and technical adventure of space exploration enthusiastically and with authority." -- American Scientist
To buy your very own autographed copy:
List price $119.95. Price if purchased here: $95.00 plus $8.00 shipping within the United States.
(For shipping outside the United States please contact us.)
If you wish to buy more than than one copy of this or any of Robert Zimmerman's books, we will gladly combine shipping. To do so, please contact us at zimmerman at nasw dot org (replacing the "at" and "dot" appropriately).