The Universe in a Mirror – Autographed Copy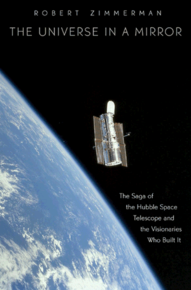 "Zimmerman demonstrates the importance of vision, perservenance, politics, and good luck in getting this national telescope constructed, fixed, and operated. He also illustrates, somewhat poignantly at times, the human costs and disappointments that came up along the way." -- J. Michael Shull, University of Colorado at Boulder.
"[Zimmerman] somehow takes potentially dry subject matter and turns it into a page-turner full of human drama." --Glenn Harlan Reynolds in The Wall Street Journal, June 16, 2008. Read the entire review.
"A breezy behind-the-scenes account by Robert Zimmerman. If Hubble sees farther [than any previous telescope], it is because [of the] men and women, who come to life, warts and all, in Zimmerman's book, and of the process, messy and uncomfortable as it may be, by which dreams are turned into legacies in a democratic society." --Dennis Overbye in the New York Times, August 5, 2008. Read the entire review.
"Must reading for armchair astrophysicists." --Bryce Christensen in Booklist, June 1, 2008.
"Zimmerman brings the cast to vibrant life, anchors them in Spitzer's sustaining vision, and sets them to re-enacting their parts in the drama of Hubble struggling towards reality." --Robert A. Brown in Nature, August 7, 2008
"The Universe in a Mirror is an epic biography of the Hubble telescope." --Ashley Yeager in Science News,
Read the first chapter! [pdf]
The hardback is for sale for $24 plus $5 shipping. If you wish to buy one or more copies of this or any of Robert Zimmerman's books, we will gladly combine shipping. For any purchase, please contact us at zimmerman at nasw dot org (changing the "at" and "dot" appropriately).