The May 2 announcement that Boeing and Lockheed Martin are forming a joint venture to build and launch rockets for the U.S. government is another sign the established sector of the American rocket industry continues to shrink and stagnate.
This situation is especially critical because the National Aeronautics and Space Administration is looking to that industry to build its shuttle replacement. Unless other companies step forward and offer competitive services — and NASA is willing to hire them — the lack of flexibility, efficiency and innovation in the industry's establishment base will make successful completion of the crew exploration vehicle difficult, if not impossible.
The non-competitive nature of the American aerospace industry was evident last fall when almost all of the major aerospace companies decided to team up to bid on the CEV rather than compete against each other.

At that time, Boeing and Northrop Grumman agreed to form a partnership, with Northrop acting as lead contractor in the initial stages of CEV construction. Similarly, Orbital Sciences said that rather than bid separately, it would work as a subcontractor under Lockheed Martin's leadership.
Of the smaller established aerospace companies, most indicated an unwillingness to bid separately. For example, Schafer Corp. of Massachusetts, an employee-owned company that has been in the high-tech business since 1972 but never as a prime contractor on a big project, generally was content to remain a subcontractor working for one of the larger companies.
"I'm not sure that Schafer, as a small business, would be credible as prime," noted John Garcia, Schafer's chief executive officer.
Six months later, the decision by Boeing and Lockheed Martin not to compete for government launch contracts is further evidence the older, established companies in the American rocket industry seem to lack the nerve to compete on the open market.
Instead, the two companies — assuming they can get government regulatory approval — want to form a joint venture called United Launch Alliance, with administrative and engineering headquarters at Lockheed's facilities in Denver, and major assembly operations at Boeing's facility in Decatur, Ala.
As part of the deal, Lockheed Martin also agreed to drop its lawsuit against Boeing for the alleged theft of proprietary documents from Lockheed.
To explain their reasons for merging operations, these companies noted there hasn't been a sufficiently robust commercial satellite launch industry to support both companies.
"By joining together we are convinced that we can provide the customer with assured access to space at the lowest possible cost, while ensuring enhanced reliability by eliminating duplicate infrastructure," James A. Bell, Boeing's CEO and president, said in a statement.
There has been a steady decline in commercial satellite launches. According to the Office of Commercial Space Transportation of the Federal Aviation Administration, since 2000 the number of commercial payloads dropped from 48 to 17 in 2004. Worse, revenues plunged from over $2.7 billion to just over $1 billion in those same years.
Faced with these trends, however, the established rocket companies have made little effort to maintain their share of the private launch market, preferring instead to live off the money they could make from launching military and NASA payloads.
As a result, since the fall of the Soviet Union, Russia slowly has eaten away at the American market share, increasingly winning satellite launch contracts that had routinely gone to companies like Boeing and Lockheed.
Recent statistics reveal this trend starkly. Since January 2004 Russia has launched 18 of the 23 private communications satellites put in orbit. Some of these comsats, such as Eutelsat and Intelsat, once routinely used American rockets. No longer.
To have held onto their customers, Boeing and Lockheed Martin would have had to match the Russians in price. Unfortunately, their Delta 4 and the Atlas 5 rockets cost far more than Russian rockets and — without the import restrictions that today limit the use by Americans of Russian rockets — it is questionable whether any private American company would chose to buy them.
Rather than try to compete by trimming costs or increasing efficiency, however, Boeing and Lockheed Martin instead decided to circle the wagons and team up, creating this launch monopoly from which the U.S. government — unable to use foreign rockets for political reasons — will be forced to buy, no matter how extravagant the cost.
This plan might very well backfire on them, however, since there are at least two new kids on the block who have decided that competition is a good thing and that there is money to be made selling rockets to the U.S. government at lower cost.
Space Exploration Technologies in El Segundo, Calif., is trying to build a family of cheap, mostly reusable small rockets for both the defense and commercial industry.
Founded by Elon Musk, who made his fortune by creating PayPal and then selling it to Ebay for $1.5 billion, SpaceX already has three contracts to launch its first rocket, the Falcon I, two with the Defense Department and one with Malaysia.
Whether SpaceX can succeed is still unknown. The first Falcon I launch, originally scheduled for the summer of 2004, has been delayed repeatedly by a variety of technical and scheduling reasons.
If SpaceX succeeds, however, the company's pricing, $5.9 million plus range costs for the Falcon I and $15.9 million for its larger Falcon V, will be a serious challenge both to Boeing and Lockheed's joint venture as well as to the Russians.
Meanwhile, Transformational Space, a new private consortium that includes Burt Rutan's company Scaled Composites, is competing with Northrop Grumman and Lockheed Martin for the right to build the CEV for NASA. Unlike other established smaller contractors like Schafer and Orbital Sciences, t/Space does not want to be a subcontractor. It wants to be NASA's prime contractor.
Moreover, t/Space has offered to do the job fast and cheap, proposing to build the CEV for $400 million and launch it manned as early as 2008, six years ahead of any other bid.
Will NASA take t/Space's bid seriously? Though the military — in buying rockets from SpaceX — has shown itself amenable to novice launch companies, NASA historically has demonstrated a strong reluctance to encourage new businesses, preferring to go with the tried and true partners it has used in the past, regardless of how poorly those old partners have performed.
That NASA's new administrator, Michael Griffin, wants the CEV's development accelerated, however, might force a change in the space agency's behavior.
As he noted when answering questions at the Space at the Crossroads conference in Washington Wednesday: "It doesn't matter on the floor of the competitive arena whether you are a traditional or non-traditional provider. You have to meet the requirements of the proposal and you have to be judged best in class."
He added, however, that non-traditional companies like SpaceX and T/Space probably will have to establish a track record first by providing simple cargo services, such as hauling water or food, to the International Space Station. After that, however, all things would be possible.
"If transportation providers can develop a level of credibility and confidence in the reliability and safety of their systems, we will follow … buying cargo services with an interest in the purchase of crew services," Griffin said.
Based on the shrinking competitiveness of NASA's traditional contractors, this might just be the path the space agency is forced to take to get its CEV built on time.
Robert Zimmerman is an independent space historian and the author of "The Chronological Encyclopedia of Discoveries in Space." His most recent book, "Leaving Earth: Space Stations, Rival Superpowers, and the Quest for Interplanetary Travel," was awarded the Eugene M. Emme Award by the American Astronautical Society for the best popular space history in 2003.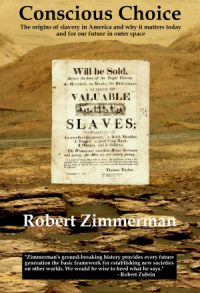 Now available in hardback and paperback as well as ebook!
From the press release: In this ground-breaking new history of early America, historian Robert Zimmerman not only exposes the lie behind The New York Times 1619 Project that falsely claims slavery is central to the history of the United States, he also provides profound lessons about the nature of human societies, lessons important for Americans today as well as for all future settlers on Mars and elsewhere in space.
Conscious Choice: The origins of slavery in America and why it matters today and for our future in outer space
, is a riveting page-turning story that documents how slavery slowly became pervasive in the southern British colonies of North America, colonies founded by a people and culture that not only did not allow slavery but in every way were hostile to the practice.
Conscious Choice
does more however. In telling the tragic history of the Virginia colony and the rise of slavery there, Zimmerman lays out the proper path for creating healthy societies in places like the Moon and Mars.
"Zimmerman's ground-breaking history provides every future generation the basic framework for establishing new societies on other worlds. We would be wise to heed what he says." —Robert Zubrin, founder of founder of the Mars Society.
All editions are available at Amazon, Barnes & Noble, and all book vendors, with the ebook priced at $5.99 before discount. The ebook can also be purchased direct from my ebook publisher, ebookit, in which case you don't support the big tech companies and I get a bigger cut much sooner.
Autographed printed copies are also available at discount directly from me (hardback $24.95; paperback $14.95; Shipping cost for either: $5.00). Just email me at zimmerman @ nasw dot org.