The latest postponement of the space shuttle's return to flight has left many wondering whether NASA's launch window in late May 2005 is realistic. It may be, but with more risk than anticipated.
One reason is the lingering questions: Will NASA have sufficiently fixed the shuttle by then to complete a safe launch? Are the problems uncovered by the loss of Columbia solved? Are there any issues unresolved that might cause the launch date to slip further?

A year, nine months and four days after shuttle Columbia broke up over the skies of Texas upon its return to Earth, NASA's remaining fleet stays grounded. Moreover, because of damage and lost work time at the Kennedy Space Center due to the four hurricanes that swept through Florida in August and September, NASA managers were forced last week to delay the shuttle's return to flight in 2005 from a March-April launch window to the second half of May.
When the Columbia Accident Investigation Board finished its work in August 2003, it outlined 15 different recommendations that it expected NASA to resolve before the shuttle could fly again.
As of now, with the first flight only seven months away, only five of those recommendations have been officially cleared by the space agency. Of these, most are administrative in nature and have not involved correcting the specific engineering problems that investigators concluded caused the Columbia accident.
For example, one CAIB recommendation required NASA to have "at least two employees" present whenever work at insulating the shuttle's huge external fuel tank took place. Not only has this become standard procedure, NASA has expanded this requirement for all flight hardware close-outs.
Another fulfilled recommendation demanded that NASA modify its agreement with what is now called the National Geospatial Intelligence Agency. The agency, which tracks thousands of orbiting objects, would be able to image a shuttle in flight in case NASA needs a damage assessment. The agreement between the two agencies was concluded March 30, 2003.
Also, the CAIB had noted how NASA had not followed industry standards in its quality assurance program at the Kennedy Space Center, and NASA has since corrected this problem.
Of the 10 outstanding recommendations, an external-to-NASA return-to-flight task force, co-chaired by former astronauts Tom Stafford and Richard Covey and chartered by the agency to provide an independent assessment of the shuttle program's progress, is hopeful all or most will be resolved before the end of the year.
Several of the remaining CAIB recommendations also involve administrative changes at NASA. For example, the CAIB wanted NASA to establish an Independent Technical Engineering Authority to review all safety issues independent of NASA's management. In recent remarks before a NASA risk-management conference in Cleveland, Administrator Sean O'Keefe emphasized how this independent authority must be established before the shuttle could fly again.
"If we don't do that," O'Keefe told SpaceNews.com at the time, "then we'll keeping pushing return to flight back."
Yet another unresolved issue requires NASA to expand its training for its Mission Management Teams to make them better prepared to face disasters, such as the loss of a shuttle or its crew.
In both cases, NASA officials said they are confident the programs will be up and running well in advance of launch. The training program already is underway, while "the (ITEA) plan is close to being finalized," NASA spokesman Allard Beutel told United Press International. "Its implementation should be very quick."
All these administrative issues, however, pale in comparison with NASA's efforts to correct the most serious and intractable CAIB hurdle and the very problem that destroyed Columbia: the shedding of debris from the shuttle's external tank.
After almost two years of effort, NASA engineers have concluded they will not be able to devise a method for astronauts in orbit to fix the kind of damage that led to the destruction of Columbia. The best they have been able to devise is a technique for repairing small cracks in the shuttle's tiles. Even this system must be tested in space before it can be considered reliable.
Engineers have not yet found a workable system for plugging or covering larger holes.
Faced with this dilemma, NASA has focused on trying to prevent any damage from occurring in the first place.
"You have to fix the tank . . . so you don't shed foam," Stafford said during a Sept. 16, 2004, news teleconference.
Yet even here the challenge remains daunting. Though engineers have redesigned the external tank to prevent the kind of large debris that damaged Columbia from breaking off, they admit they cannot prevent the loss of smaller pieces.
As Covey acknowledged during that same teleconference, "there's no question we're not going to ever eliminate all the debris (from the external tank)."
If the smallest debris cannot be eliminated, and repairs cannot fix all damage, NASA is left with only one other option if something goes wrong: Use the International Space Station as a safe haven until a rescue shuttle mission can be mounted.
This, too, poses a problem. For the station to accommodate its own crew, plus seven or so shuttle astronauts, its environmental systems must function properly.
In recent months, however, one of the three Russian-built Elektron oxygen-regenerator units that recycle the station's atmosphere has suffered technical problems. Though the Expedition 9 station crew was able to pinpoint the malfunction and fix it temporarily, and though the Expedition 10 crew that occupies the station today is planning to make a more permanent fix, a subsequent failure would have serious consequences for any future shuttle mission.
As Covey noted, "If the Elektron is down, that probably would mean that safe haven was not possible and the shuttle would not launch."
Despite these concerns, everyone at NASA, as well as the independent Stafford-Covey Task Force, appears increasingly optimistic that all of the CAIB's recommendations will be satisfied by early 2005. Therefore, the May launch of the space shuttle Discovery might just happen as scheduled.
Nonetheless, NASA might be forced to fly the shuttle knowing some debris will fall from the external tank and it will not be possible to repair the type of serious damage that caused the destruction of Columbia on Feb. 1, 2003.
It is thus not surprising that rumors have recently been swirling in and out of NASA, suggesting the agency is considering a significant reduction in the planned 28 remaining shuttle flights. How much — or even whether — that schedule can be trimmed is a different question, a question that is not yet answered.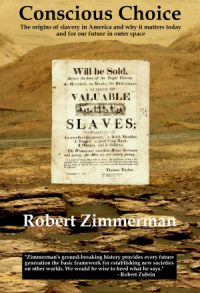 From the press release: In this ground-breaking new history of early America, historian Robert Zimmerman not only exposes the lie behind The New York Times 1619 Project that falsely claims slavery is central to the history of the United States, he also provides profound lessons about the nature of human societies, lessons important for Americans today as well as for all future settlers on Mars and elsewhere in space.
Conscious Choice: The origins of slavery in America and why it matters today and for our future in outer space
, is a riveting page-turning story that documents how slavery slowly became pervasive in the southern British colonies of North America, colonies founded by a people and culture that not only did not allow slavery but in every way were hostile to the practice.
Conscious Choice
does more however. In telling the tragic history of the Virginia colony and the rise of slavery there, Zimmerman lays out the proper path for creating healthy societies in places like the Moon and Mars.
"Zimmerman's ground-breaking history provides every future generation the basic framework for establishing new societies on other worlds. We would be wise to heed what he says." —Robert Zubrin, founder of founder of the Mars Society.
Available everywhere for $3.99 (before discount) at Amazon, Barnes & Noble, and all ebook vendors, or direct from the ebook publisher, ebookit. And if you buy it from ebookit you don't support the big tech companies and I get a bigger cut much sooner.