After more than a year of preparation, NASA has formally released its request for proposals – the detailed specifications for contractors to follow – bidding on the right to build the Crew Exploration Vehicle, the spacecraft the agency plans to use to explore the solar system in the coming decades.
A close look at that RFP, however, raises questions about whether the resulting effort will produce a spacecraft capable of achieving NASA's exploration goals or another failed project, costing a fortune and producing nothing except blueprints.

According to the requirements, responses are due May 2, and in September NASA will choose two contractors to build competing prototypes through December 2008, at which time the agency will pick its prime contractor.
NASA intentionally has tried to keep its requirements for the CEV somewhat vague. The spacecraft should weigh 20 metric tons or less. It should be capable of housing from one to four astronauts for as long as 16 days.
It should be able to rendezvous and dock with future lunar landers and interplanetary modules – dubbed, respectively, the Lunar Surface Access Module and Earth Departure Stage.
The CEV also should contain systems that will allow a safe abort throughout all phases of its flight.
Other than these general requirements, NASA has left the design entirely up to the contractors planning to offer proposals. The agency even has allowed contractors some additional flexibility in their designs.
For example, if a company thinks it can build a vehicle that can keep a crew in space longer than 16 days, or with a crew capacity as high as six, the RFP permits the additional capability.
Companies also are free to incorporate – or not – an ability for the proposed spacecraft to dock with the International SpaceStation.
Though NASA has left these design details to bidders, it also has offset some of that flexibility with considerable considerable management requirements.
The RFP includes a 23-page document – complete with an organizational chart – describing precisely how the project's work breakdown is to be organized and thus almost dictating the corporate structure for building the spacecraft.
The RFP also requires the winning contractors to provide an incredible plethora of reports – 129 to be precise – many of which must be submitted monthly, quarterly or annually. Of the others, a large number are described as "living documents maintained throughout the design and development process."
At first glance, the purpose behind many of these reports seems laudable. A good number will force prospective bidders to address in detail important but specific issues, such as engine design, environmental systems and risk management.
Much of the paperwork seems redundant, however, and accomplishes little more than to increase costs, waste resources, slow development and keep NASA bureaucrats employed reviewing and filing these reports.
Companies not only will have to perform a risk-management report, but they also will have to maintain nine other safety reports, including a safety and mission assurance plan, a fault tree analysis, a system safety hazard analysis, a mishap and safety statistics report, and a probabilistic risk assessment plan.
The RFP also requires reports covering everything from the name of each item on the CEV to describing "the contractor's plans of incorporating operations-centric requirements and innovative attributes into the (CEV)'s design."
In other words, any company that hopes to build the CEV had better possess the resources to hire a whole additional department devoted entirely to writing and maintaining a large paperwork regimen.
The result of these bureaucratic requirements has been to discourage the participation of some of the more innovative and smaller new aerospace companies – such as the companies that competed for the Ansari X Prize and actually might be able to build something quickly and for less money.
David Gump, president of Transformational Space, a consortium of smaller aerospace companies – including Burt Rutan's Scaled Composites – told the magazine New Scientist last Saturday the consortium would not bid on the CEV because of NASA's paperwork requirements.
Nor is this all. Being a government project, the RFP also includes a host of other mandated agendas, all of which skew and smear the clarity of the project.
Example: The CEV is not only a manned spacecraft, it also is both a minority-hiring and small-business-support program.
Furthermore, the RFP requires the contractor to help NASA sell itself tothe public, providing "education and public outreach support to NASA to disseminate information regarding the CEV and the exploration initiative."
Among the more than 100 mandated clauses are such things as the posting of inspector-general hotline numbers, the demand that the "prime and subcontractors … use their best efforts to award subcontracts to small business concerns located in rural areas," and the requirement that "the contractor … institute and maintain a program for achieving a drug and alcohol-free workforce."
These mandates were not NASA's idea. All were established by Congress over time with good intentions, such as helping small businesses and minority contractors, or improving workplace safety or the U.S. economy.
Yet, these same rules also have nothing to do with NASA's fundamental job – the exploration of space – and make it almost impossible for the space agency or its contractors to do that exploration in a straightforward and efficient manner.
The consequence of NASA's management requirements plus the government's mandates is to increase significantly the CEV's development cost and timeline.
This same situation contributed to a suite of earlier failed NASA projects – the X-33, X-34 and X-38 programs, for instance – whose combined cost was more than $1 billion but never produced anything that actually flew in space.
That these rules and complicated reporting will have negative consequences for the project already can be seen within the RFP itself.
Though NASA officials repeatedly have said the first unmanned testflight of the CEV would occur in 2008, the RFP's language suggests even now they are looking for wiggle room to back off from that commitment.
Instead of calling for a test flight in 2008 specifically, the RFP requires only "a risk-reduction flight effort and preliminary design review," language vague enough to allow contractors to avoid actually launching a full-scale prototype of the CEV.
When the RFP does refer to an "unmanned test flight," it specifies a launch date in 2011 – three years later.
There is no doubt about the passion and sincerity of the NASA employees who are spear-heading the effort to build the CEV. Many came to NASA because they were fired up by the idea of human space exploration.
Nonetheless, they all work for the government and by definition the government cannot work like private enterprise. It cannot be flexible and innovative, because it must follow detailed and incredibly complex rules, either stipulated in laws by Congress or in regulations created by NASA in response to public pressure.
Thus, even if the CEV project moves forward as planned, the only bidders NASA is likely to get will be the same contractors the agency has used for the past three decades with decidedly mixed results: the giants Boeing and Lockheed Martin and the typical sub-contractors who work for them.
Worse, in order to reduce their risk in this restrictive government environment, the most likely concept these corporations will propose for this so-called next-generation human spacecraft will be an unoriginal variation of an Apollo capsule, linked to a Russian-style habitable module and an only slightly updated Apollo lunar module.
This fact already can be seen by some of the preliminary design drawings the companies have released.
So much for innovation and a bold step forward for American space exploration.
Robert Zimmerman is an independent space historian and the author of "The Chronological Encyclopedia of Discoveries in Space." His most recent book, "Leaving Earth," was awarded the Eugene M. Emme Award by the American Astronautical Society for the best popular space history in 2003.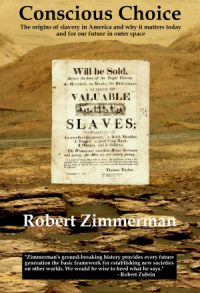 Now available in hardback and paperback as well as ebook!
From the press release: In this ground-breaking new history of early America, historian Robert Zimmerman not only exposes the lie behind The New York Times 1619 Project that falsely claims slavery is central to the history of the United States, he also provides profound lessons about the nature of human societies, lessons important for Americans today as well as for all future settlers on Mars and elsewhere in space.
Conscious Choice: The origins of slavery in America and why it matters today and for our future in outer space
, is a riveting page-turning story that documents how slavery slowly became pervasive in the southern British colonies of North America, colonies founded by a people and culture that not only did not allow slavery but in every way were hostile to the practice.
Conscious Choice
does more however. In telling the tragic history of the Virginia colony and the rise of slavery there, Zimmerman lays out the proper path for creating healthy societies in places like the Moon and Mars.
"Zimmerman's ground-breaking history provides every future generation the basic framework for establishing new societies on other worlds. We would be wise to heed what he says." —Robert Zubrin, founder of founder of the Mars Society.
All editions are available at Amazon, Barnes & Noble, and all book vendors, with the ebook priced at $5.99 before discount. The ebook can also be purchased direct from my ebook publisher, ebookit, in which case you don't support the big tech companies and I get a bigger cut much sooner.
Autographed printed copies are also available at discount directly from me (hardback $24.95; paperback $14.95; Shipping cost for either: $5.00). Just email me at zimmerman @ nasw dot org.