What is a West Bank settlement? If you read the press, it is a place where Israeli Jews have moved in and stolen the land of Arabs in order to occupy their land unfairly. It is a place where Arabs are forbidden, where apartheid has been established against the indigenous population.
Not only are these statements false, they actually turn reality on its head.
In my two visits to Israel I have stayed or visited four different West Bank settlements, and in each place my first impression was that I was visiting a typical American gated community, a suburban community run by a home-owner-association (HOA). You enter by driving through a gate where an attendant waves at you as you go by. He doesn't stop you, because he either knows you or he has profiled you and sees no reason to ask you any questions. Once inside the roads wind about, passing individual homes or apartments. At the center of the community is a recreation center, often with a pool and library, where events are held and people go for entertainment.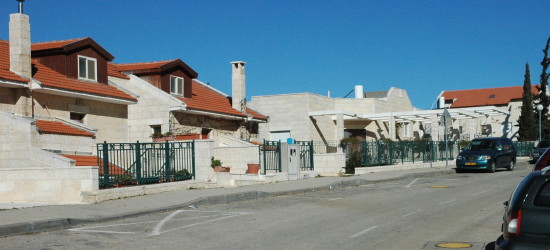 The gated community of Alon Shvut, south of Jerusalem in the West Bank.