What is a West Bank settlement? If you read the press, it is a place where Israeli Jews have moved in and stolen the land of Arabs in order to occupy their land unfairly. It is a place where Arabs are forbidden, where apartheid has been established against the indigenous population.
Not only are these statements false, they actually turn reality on its head.
In my two visits to Israel I have stayed or visited four different West Bank settlements, and in each place my first impression was that I was visiting a typical American gated community, a suburban community run by a home-owner-association (HOA). You enter by driving through a gate where an attendant waves at you as you go by. He doesn't stop you, because he either knows you or he has profiled you and sees no reason to ask you any questions. Once inside the roads wind about, passing individual homes or apartments. At the center of the community is a recreation center, often with a pool and library, where events are held and people go for entertainment.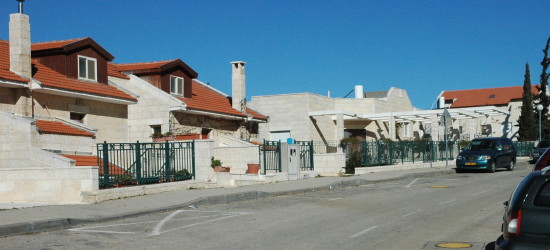 The gated community of Alon Shvut, south of Jerusalem in the West Bank.

Granted, there are differences. In Israel the gated communities often have both private homes and apartment buildings, something you rarely see in the U.S. Sometimes Israel HOAs are almost all made up of apartment buildings, packed close together along with a main shopping street. And in Israel the gate attendant pays much closer attention, and can and will forbid entry if he feels it necessary. In the states the gate is almost always merely for show, and accomplishes little but provide residents a false sense of security.
Still, the similarities are striking. The settlements I visited were all alike in this way, a collection of homes and apartments, all built at the same time and then sold or rented out to those that were looking for a place to stay.
Moreover, the land was not stolen, nor was anyone evicted against their will to obtain it, as is often suggested by the press and by those who oppose the existence of Israel. Instead the land was routinely purchased or obtained in as legal and as just a way as possible. There is no doubt that the ownership title of all the land in the West Bank is under dispute. What is very clear is that practically nothing was ever taken from anyone — except in those cases where Israelis were evicted by force by their own government.
The land for all Israeli West Bank settlements was obtained in one of two ways: either the land was unoccupied so that Israeli settlers could homestead it, or it was purchased from its Arab owners. In both cases, the Israelis have been very careful to document title as best as possible. Because Israel had been part of the Ottoman Empire until the end of World War I, to search the oldest land records you have to go to Istanbul, Turkey, where those records are still kept. More recent land records are kept in Ramallah, a West Bank city under the control of the Palestinian Authority (PA) since the signing of the 1993 Oslo Accords. Unfortunately, since the signing of those accords, the PA has made those records unavailable. Beforehand, however, they were used to identify whether a piece of land was owned by someone or not.
In the case of land purchase from Arabs, this has become increasingly difficult as the decades have passed. It is now illegal for an Arab to sell land to an Israeli, with the punishment death for doing so. Thus, when Arabs do sell land (it does happen repeatedly) the transaction is usually done illicitly. In some cases, the Arab seller has been known to take advantage of this situation and sell his property multiple times. In other cases, the Arab seller demands and gets as part of the deal transportation for himself and his family out of the country in order to protect their lives.
Most of the time, however, Israeli West Bank settlements are built on empty land that has been documented in land records as having no ownership or occupant. The Israelis literally homestead it, turning something useless and empty into a thriving community.
Thus, if we were willing to put aside ethnic and political issues, we would see that most of the land disputes in Israel fall under the very simple issue of a disputed title ownership. For example, during the period from 1948 to 1967 when Jordan controlled the West Bank, Jordan supposedly gifted some of the unclaimed tracts to private individuals. Though these gifts are not well documented and were often never claimed by their recipients even during the time Jordan controlled the land, they are often used today to try to discredit the ownership rights of present-day Israeli settlers. In a normal world, these disputes as well as any land purchases or homesteading disagreements could easily be solved by either a contractual agreement and the exchange of cash or by a simple ruling in court. Instead, the ownership questions are used as a hammer against Israeli settlers, who in many cases have lived on this land now for as much as six decades.
Then there is the question of why Israelis even settle on this land. The assumption I and most people make is that they are there to gain and solidify their possession of the West Bank, for both political and ideological reasons. While partly true, this is actually not the main reason why people buy homes or rent apartments in these HOAs. Instead, they do it for basic economic reasons. Because the title of the West Bank is under dispute, and because it is also a place where there is a recognized threat of violence, the land is simply cheaper to buy. Renting an apartment in Jerusalem or in Israel is far more expensive. So is buying land. If you want to live near Jerusalem but don't have a lot of money, living in a West Bank gated community is a smart and economical choice.
In the end, this effort by Israelis to find affordable housing raises the value of the West Bank land, which has resulted in an increase in construction by both Israelis and Arabs. The image below, taken from the hilltop fortress of Herod in the West Bank just a few miles south of Jerusalem, shows both an Israeli settlement (with red roofs) and two Arab developments close by in the background, along with a great deal of other construction. And this image is very typical of the countryside surrounding Jerusalem in the West Bank.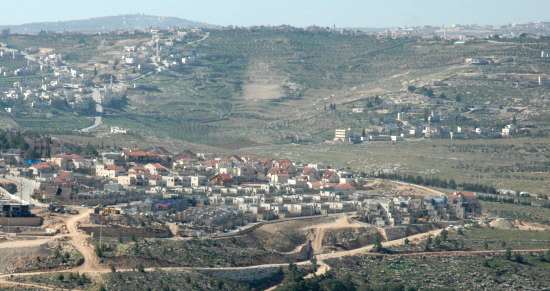 What a concept. A free market flourishes, people build homes and businesses, land values increase, everyone is better off, and wealth ensues.
Tomorrow I will take us all sightseeing, and describe how the only apartheid being imposed in the Middle East is against Jews. Just like in NAZI Germany, the Arabs have imposed rules — with international sanction — that forbid Jews from visiting certain areas of the Middle East.
Readers!
I must unfortunately ask you for your financial support because I do not depend on ads and rely entirely on the generosity of readers to keep Behind the Black running. You can either make a one time donation for whatever amount you wish, or you sign up for a monthly subscription ranging from $2 to $15 through Paypal or $3 to $50 through Patreon.
Your support will allow me to continue covering science and culture as I have for the past twenty years, independent and free from any outside influence.
Your support is even more essential to me because I not only keep this site free from advertisements, I do not use the corrupt social media companies like Google, Twitter, and Facebook to promote my work. I depend wholly on the direct support of my readers.
You can provide that support to Behind The Black with a contribution via Patreon or PayPal. To use Patreon, go to my website there and pick one of five monthly subscription amounts, or by making a one-time donation. For PayPal click one of the following buttons:

If Patreon or Paypal don't work for you, you can support Behind The Black directly by sending your donation by check, payable to Robert Zimmerman, to


Behind The Black
c/o Robert Zimmerman
P.O.Box 1262
Cortaro, AZ 85652


Or you can donate by using Zelle through your bank. You will need to give my name and email address (found at the bottom of the "About" page). The best part of this electronic option is that no fees will be deducted! What you donate will be what I receive.