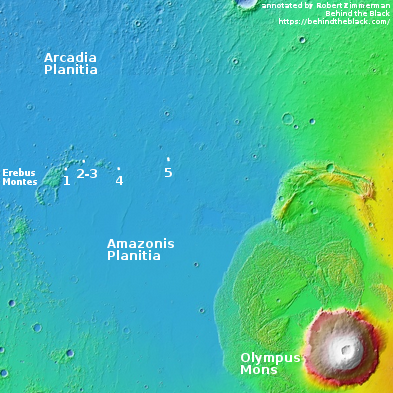 In the August image release from the high resolution camera of Mars Reconnaissance Orbiter (MRO) were five images whose title immediately caught my interest:
The overview map on the right shows the location on Mars for these five photographs. The second and third images are of the same location, taken to produce a stereo pair.
To put it mildly, it is most intriguing to discover that SpaceX is beginning to research a place where it can land Starship on Mars. I immediately emailed Nathan Williams, the JPL scientist who requested these images from SpaceX, but he was bound by a non-disclosure agreement with SpaceX and could not comment. I have since tried to get some information directly from SpaceX but so far the company has not responded. A 2017 news story had indicated the company's interest in this Mars' location, but gave no details either.
Based on what we now know of Mars, however, it is possible to figure out why they favor this location, on the border between the two large northern lowland plains Arcadia and Amazonis Planitia.
» Read more