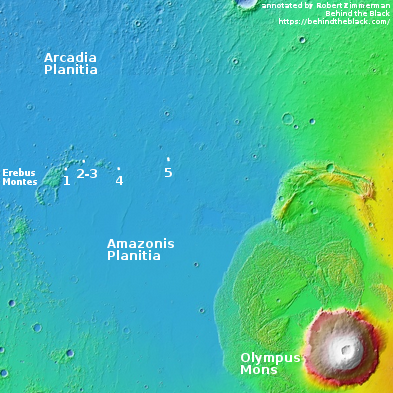 In the August image release from the high resolution camera of Mars Reconnaissance Orbiter (MRO) were five images whose title immediately caught my interest:
The overview map on the right shows the location on Mars for these five photographs. The second and third images are of the same location, taken to produce a stereo pair.
To put it mildly, it is most intriguing to discover that SpaceX is beginning to research a place where it can land Starship on Mars. I immediately emailed Nathan Williams, the JPL scientist who requested these images from SpaceX, but he was bound by a non-disclosure agreement with SpaceX and could not comment. I have since tried to get some information directly from SpaceX but so far the company has not responded. A 2017 news story had indicated the company's interest in this Mars' location, but gave no details either.
Based on what we now know of Mars, however, it is possible to figure out why they favor this location, on the border between the two large northern lowland plains Arcadia and Amazonis Planitia.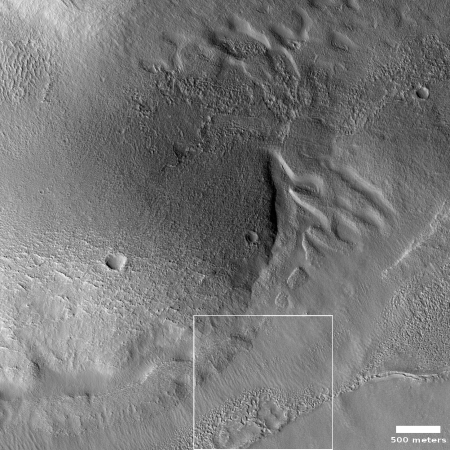 Click for full image.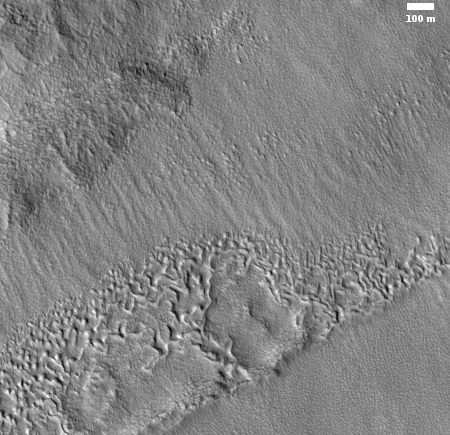 First and foremost, there is strong evidence that this location holds buried glaciers called lobate debris aprons. The hilly arc where site #1 is nestled, dubbed Erebus Montes, apparently is filled with these kinds of glaciers, according to this global Martian map of glacier locations (shown as the yellow arc near the left edge in the northern glacial band).
Site #1 appears to be this kind of glacier, though the feature is not very dramatic. To the right are images of a very nearby but more distinct lobate debris apron glacier, located just to the east of Site #1. The top image, reduced and cropped to post here, shows the southern half of this mound. The white box indicates the location of the full resolution close-up below, showing what appear to be glacial erosion features.
Compare this glacier with this buried Martian glacier image I posted last week. Though that earlier image was for a different type of Martian buried glacier, dubbed concentric crater fill because they are found inside craters, the erosion features look remarkably similar, both reminding me of the surface of a large ice block after you have sprayed it with warm water and it begins to melt away unevenly.
The evidence that SpaceX is looking for locations near buried glaciers is further reinforced by the fact that all the locations above are inside the northern 30-60 degree latitude band where Martian glaciers are thought to exist in abundance, either as lobate aprons or concentric crater glaciers.
These locations have other advantages. They are all at about 40 degrees latitude, meaning their climate will be relatively mild, for Mars. The terrain for site #5 is very flat, making for a very safe landing zone that is also very close to the debris aprons at the other sites.
There is also other evidence of buried ground ice at these sites. In fact, planetary scientists have already proposed this location [pdf] as a significant site for exploration, because the ground water here might be shallow. To quote from this presentation: "Easy access to subsurface ice means that it should be easy to sample."
Based on the pace that SpaceX sets in anything it does, expect their research of this location to accelerate in the next year or so. Unlike NASA, SpaceX is building a vehicle that is designed to go and land anywhere in the solar system. Once Super Heavy and Starship are operational and proven in those first lunar flights there will be nothing to stop it from going to Mars, if only to demonstrate what the design is capable of.
And based on their pace, expect this possibility sometime in the next decade.
Readers!
My July fund-raising campaing for 2021 has now ended. Thank you all for your donations and subscriptions. While this year's campaign was not as spectacular as last year's, it was the second best July campaign since I began this website.
And if you have not yet donated or subscribed, and you think what I write here is worth your support, you can still do so. I depend on this support to remain independent and free to write what I believe, without any pressure from others. Nor do I accept advertisements, or use oppressive social media companies like Google, Twitter, and Facebook. I depend wholly on the direct support of my readers.
If you choose to help, you can contribute via Patreon or PayPal. To use Patreon, go to my website there and pick one of five monthly subscription amounts, or by making a one-time donation. For PayPal click one of the following buttons:

If Patreon or Paypal don't work for you, you can support Behind The Black directly by sending your donation by check, payable to Robert Zimmerman, to


Behind The Black
c/o Robert Zimmerman
P.O.Box 1262
Cortaro, AZ 85652