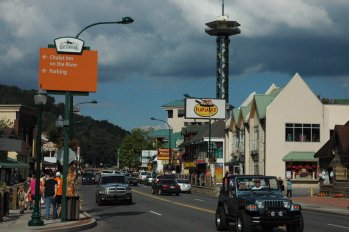 I must admit I did not expect this. When we made our reservations to stay in a timeshare motel in Gatlinburg, Tennessee, I imagined the town would resemble the small West Virginia towns I am very familiar with from my many years of caving in that state. There would be a relatively quiet main street, with some restaurants, a supermarket, one or two gas stations, and some basic shopping.
What I found instead is a wonderfully energetic example of American capitalism, a carnival amusement area reminiscent of the amusement spots of the past and most epitomized by Brooklyn's Coney Island.
When I was growing up in Brooklyn in the late 1950s and 1960s, Coney Island was a shadow of its grand past, but it still carried with it much of its old glory. You could stroll along the boardwalk or Surf Avenue and visit hundreds of shops, stores, and amusement rides, most of which were independently owned. In addition, the island also had several larger private amusement parks, such as Steeplechase Park, Astroland, and Luna Park (which unfortunately had closed before I ever saw it), each of which had a collection of their own rides and amusements. With some, like Steeplechase and Luna, you had to pay a separate admission price to get in.
This is exactly what I discovered here in Gatlinburg and the adjacent towns of Pigeon Forge and Sevierville.
» Read more