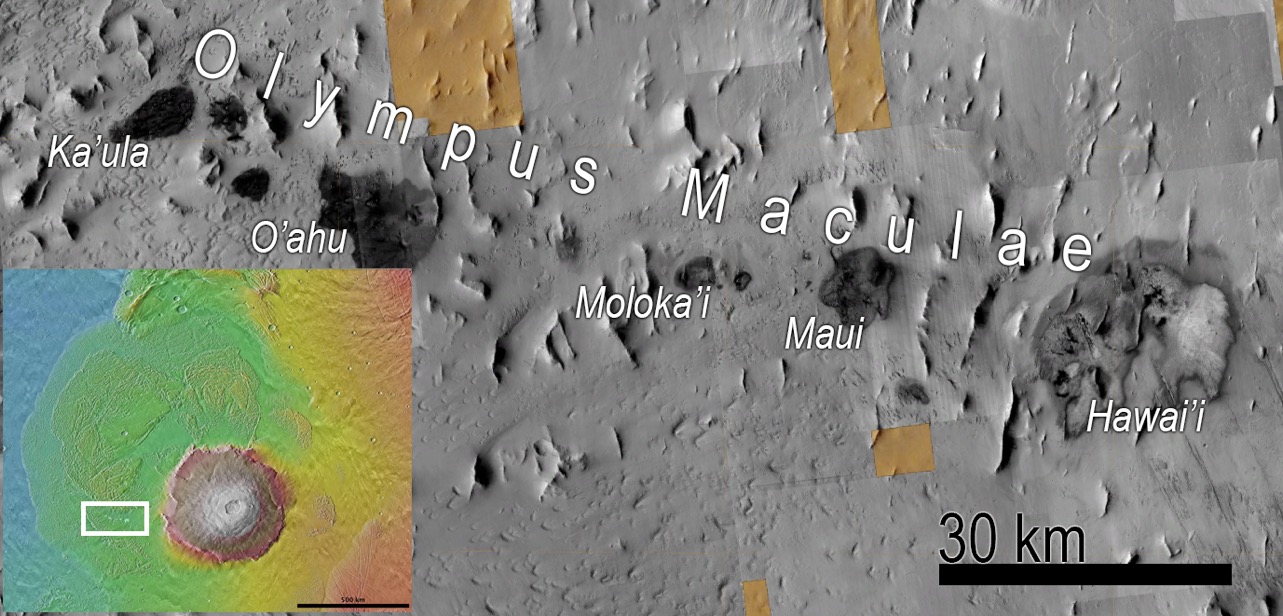 One of the numerous geological mysteries that planetary scientists have discovered among the many high resolution images taken by the various Martian orbiters are a series of dark splotches, ranging in diameter from one to fifteen miles, running in an east-west line on the lower western slopes of the giant volcano Olympus Mons.
Scientists have dubbed this string of splotches Olympus Maculae and, because of their superficial resemblance to the islands of Hawaii, have labeled each splotch, or macula, after those islands, as shown in the overview map above, created by geologist Kirby Runyon of the Applied Physics Lab in Maryland as part of a presentation [pdf] given at a science conference in September 2019.
Prior to the 2018 global dust storm on Mars scientists were not quite sure what caused these dark patches. The data suggested the maculae were less dusty than the surrounding terrain, but why this was so was not clear.
The advent of that storm however gave them a chance to get before and after photos. In October 2018 I found several images in monthly download of new images from the high resolution camera of Mars Reconnaissance Orbiter (MRO) and posted them, making a vain attempt to locate what had changed. As I wrote,
I found that MRO has taken images of this location twice before, in 2007 and in 2009. I spent about fifteen minutes trying to find something that had changed, but was unable to locate anything, other than what look like a few wind-blown streaks probably caused by dust devils. I suspect I do not know what to look for.
I then made some guesses about what caused these splotches, all wrong I have since learned.
Since then more images of these splotches have been downloaded from MRO, all once again indicating that changes have been detected. Below is a sequence of images of the splotch dubbed Ka'ula, the first taken in 2008, the second in 2018 just after the global dust storm, and the third in 2019, one year after the storm. Set side-by-side the changes are more obvious.
» Read more