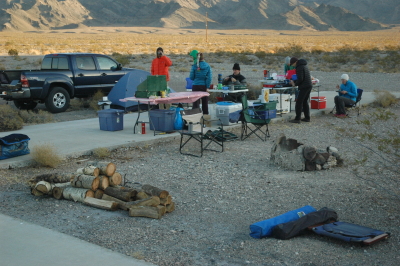 This past Thanksgiving weekend I joined some caving and canyoneering friends in Death Valley to celebrate the holiday in the great outdoors as well as explore some of the park's more inaccessible canyons. We did not camp in the park, since campfires are not allowed and the park has a size limit for groups. Instead, we camped on BLM land just outside the park, in what appeared to be an abandoned RV trailer park that canyoneerers call Slabby Acres.
First a primer. Regular readers will know that I have been doing cave exploration and mapping now for about thirty years. This recreational activity not only involves knowing how to use survey instruments in a cave, you need also to be trained in the vertical rope techniques required to reach some remote places underground, sometimes dropping multiple pits on the way in and climbing those same domes on the way out.
Canyoneering is somewhat similar to caving. Just like caving you need to know how to travel over boulders and rough terrain and also know how to rappel and climb ropes. Unlike caving the canyons are open to the sky, and you rarely climb the ropes to travel up the canyon. In canyoneering the goal is to find the head of the canyon and travel down its many drops to come out at the bottom safely, all the while getting to see some wild, majestic, and rarely seen places. In addition, modern canyoneering rarely involves virgin exploration. Most canyoneerers visit already explored canyons whose details are well documented so that they know what ropes to bring as well as how to find the canyons.
This was our goal this past weekend. Some of the western cavers who have joined my survey projects and learned how to cave survey are also active canyoneerers. While none of us had ever visited the canyons on our trip list, several were very experienced with finding and traversing places they had never been before. My plan was to follow them and enjoy the experience. Below are my pictures during one of this weekend's canyoneering trips. The canyon is Scorpion Canyon. It was the first we visited and was relatively easy to do, only 4.6 miles long with only six rappels and only an 1,800 foot elevation drop. It would take us over one of the mountain ranges that form the eastern wall of Death Valley. In fact, this was how I was going to enter Death Valley for the first time. Rather than drive in, like most tourists, I would rappel in.
» Read more