In the three years since the beginning of what I think should be called the Wuhan panic, the civilized world was overwhelmed by a tidal wave of mindless emotional terror, resulting in a never-ending stream of terrible COVID policy decisions — from social distancing to masks to lockdowns to jab mandates — that ended up killing tens of thousands unnecessarily, while trampling on the liberties and rights that western civilization had once consider sacrosanct.
During that panic a large number of individuals, including myself and most of the conservative press, desperately tried to fight that panic with hard data, noting repeatedly that masks accomplished nothing, that social distancing was a sham, that lockdowns only destroyed lives and businesses, and that mandates of any kind (especially in connection with the COVID jab) were misguided and dangerous.
All to no avail. The power-hungry were in charge, controlling all the major branches of government as well as its health bureaucracy, and these people were eager to use COVID epidemic as a vehicle for gaining power. The fear they engendered in the general public, long used to relying on these people for accurate information, caused that public to buy into that fear, and accede to the power grab by these government officials.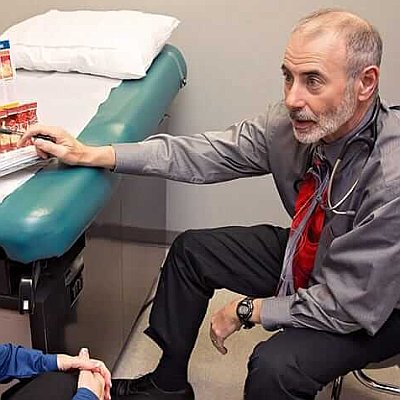 Doctor Robert Lending.
One person who tried mightily throughout the panic to focus solely on the data was my own doctor, Robert Lending. Each week he would issue a detailed COVID report, documenting at length the actual statistics as well as the most recent research on the best treatment methods as well as those that were failures. I have quoted his reports several times previously on Behind the Black, always with permission, because his approach was so fact-based and devoid of partisan politics. His only concern was to find the best way to treat his patients.
I have also quoted Lending repeatedly because he contrasted so starkly with my previous doctor, Charles Michieli, who when I asked his assistant in April 2020 if I could work out some accommodation for me regarding masks, as I had both health and ethical reasons for not wearing one, Michieli simply responded by sending me a letter firing me as a patient. So much for putting patients first, and doing no harm.
Lending's own experience during the entire panic was sometimes as disturbing. Though he always treated all patients regardless of politics or their own COVID fears, his insistence on logic sometimes enraged some patients to the point that they quit his practice. For example, back in June 2020, when the George Floyd riots were occurring, he wrote the following in his twelfth update:
» Read more