In the three years since the beginning of what I think should be called the Wuhan panic, the civilized world was overwhelmed by a tidal wave of mindless emotional terror, resulting in a never-ending stream of terrible COVID policy decisions — from social distancing to masks to lockdowns to jab mandates — that ended up killing tens of thousands unnecessarily, while trampling on the liberties and rights that western civilization had once consider sacrosanct.
During that panic a large number of individuals, including myself and most of the conservative press, desperately tried to fight that panic with hard data, noting repeatedly that masks accomplished nothing, that social distancing was a sham, that lockdowns only destroyed lives and businesses, and that mandates of any kind (especially in connection with the COVID jab) were misguided and dangerous.
All to no avail. The power-hungry were in charge, controlling all the major branches of government as well as its health bureaucracy, and these people were eager to use COVID epidemic as a vehicle for gaining power. The fear they engendered in the general public, long used to relying on these people for accurate information, caused that public to buy into that fear, and accede to the power grab by these government officials.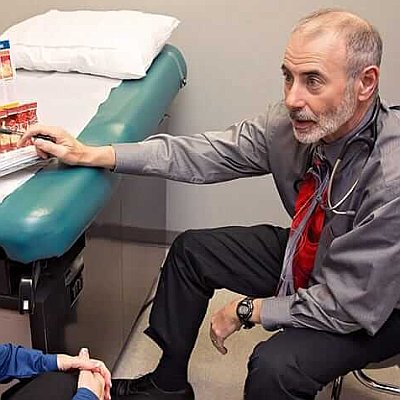 Doctor Robert Lending.
One person who tried mightily throughout the panic to focus solely on the data was my own doctor, Robert Lending. Each week he would issue a detailed COVID report, documenting at length the actual statistics as well as the most recent research on the best treatment methods as well as those that were failures. I have quoted his reports several times previously on Behind the Black, always with permission, because his approach was so fact-based and devoid of partisan politics. His only concern was to find the best way to treat his patients.
I have also quoted Lending repeatedly because he contrasted so starkly with my previous doctor, Charles Michieli, who when I asked his assistant in April 2020 if I could work out some accommodation for me regarding masks, as I had both health and ethical reasons for not wearing one, Michieli simply responded by sending me a letter firing me as a patient. So much for putting patients first, and doing no harm.
Lending's own experience during the entire panic was sometimes as disturbing. Though he always treated all patients regardless of politics or their own COVID fears, his insistence on logic sometimes enraged some patients to the point that they quit his practice. For example, back in June 2020, when the George Floyd riots were occurring, he wrote the following in his twelfth update:

The politics behind closures and demonstrations are ludicrous. How can it be wrong to open a store to sell merchandise, but "acceptable" to burn down that store in protest? How can it be wrong to attend church, but okay to burn that church down? How can it be wrong to break quarantine and protest a store or business re-opening, but it is okay to gather and protest for a cause such as Mr. Floyd or whatever? This lack of science and illogical interpretation of common sense is ridiculous.
At that moment Lending lost his first patient, who read the update, called Lending in fury and "quit on the spot." Subsequently Lending says that he lost about six patients in total because of his updates, one of which quit after reading Lending's most recent March 21st COVID update, #108, which opened as follows:
THURSDAY MARCH 16TH MARKED THE 3 YEAR DATE SINCE DR. FAUCI TOLD US, " 'IT' WOULD BE FOR 15 DAYS ONLY":

-The power grab, control, deceit, censorship, etc. started.
-Clearly, Covid has been a tragic, deadly, unneeded medical scourge released in and onto the world; but the secondary economic and emotional effects along with the loss of choice and personal freedoms are unimaginable and created consequences which are irretrievable.

Let's start simply with the 5 Top Myths told to us by the "Covid Experts" which have now been debunked [THE 5 POINTS LISTED BELOW ARE FALSE!]:

1) Natural immunity offers little protection as compared to vaccinated immunity.
2) Masks prevent Covid infection and transmission.
3) School closures reduced Covid transmission.
4) Myocarditis from vaccine is less common than from infection.
5) Covid originating from the Wuhan lab is a conspiracy theory.

-[I could list dozens more debunked statements but I won't.]
Lending had come to these conclusions slowly and carefully by reading and reporting to his patients the scientific literature that had been accumulating since the arrival of COVID three years ago. He didn't make these statements immediately, as I did in March 2020, but waited until the weight of data was overwhelming, on all points.
On masks he wrote the following in this 108th update:
Those individuals still wearing masks are seriously and emotionally handicapped with fear. There is absolutely no reason to continue masking, especially if alone and with no one nearby. The recent Cochrane mega-analysis of over 70 controlled studies in over 600,000 individuals showed no benefit with masking whatsoever in terms of preventing infection, preventing transmission, or reducing disease severity.

So, anyone still masking may indeed be deluding themselves or maintaining an irrational fear. Personally, people can do whatever they want to [and I will not shame them], but maintaining this practice is not normal or based in science; and may reflect a thought process that might be defined as a mental illness. [[[I know that will offend some people, but I am speaking as a physician and not trying to push any political agenda. I guess if someone was wearing masks for their entire adult life or for decades 24/7/365 in fear of "germs" or "disease", then at least they are being consistent. But if this is all "new" and Covid-related, then it is a sad and dangerous behavior. Please realize that I will not shame those mask-addicted people, but will feel sad for them that they continue a fruitless and pointless activity.]]]
Lending concluded the update as follows:
IN SUMMARY: We are here for you, our valued patients! DO NOT LIVE IN FEAR! Covid needs to just "go away". It should be treated no different than a "cold" or a typical mild flu illness. There should be no testing, no masking, no social distancing, no shot requirements, no proof of shot(s) documentation(s), no restrictions or requirements for travel excursions, no mandates for employer groups or military or hospital workers or first-responders. It is time for the world to resume living.

If you survived the last 3 years without losing a loved-one, becoming mentally ill, losing your home, and losing your life's work; then you were lucky and fortunate. Tragically, not everyone was lucky. Personally, it doesn't matter where and how the Pandemic was created, although from DAY 1, I felt it was created and inadvertently released from the Wuhan Lab. I also believe that certain individuals, governments, and Big Pharma did a tragic disservice to the inhabitants of the world.
When I received this update on March 21st I emailed Lending, curious as to the response from his patients. He responded as follows:
I received only one comment back as of now — it was very negative (not a word more or word less)… I feel very sorry for this person: "Please stop emailing me." "None of this is true."
Lending later added "The fact that this patient said 'none of this is true' is an absurdity in itself. For example, I was quoting US CBP numbers, medical journals, etc. but the patient's 'deluded bias' overwhelmed the entire message and prevented any analysis or acceptance."
This inability to face facts by these former patients might make us despair, but it appears that they are instead the exception, not the rule. While Lending's fact-based conclusions on COVID caused him to lose six patients over the past three years, he "…got literally 100's of 'thank you' from patients for writing [the update with its] truthful and scientific content. … People in general have covid burnout and VAX burnout (reflective in minimal Bivalent VAX usage) and now realize that the Govt and Big Pharma and certain people were full of crap and not being honest."
Overall he experienced no measurable impact on his practice.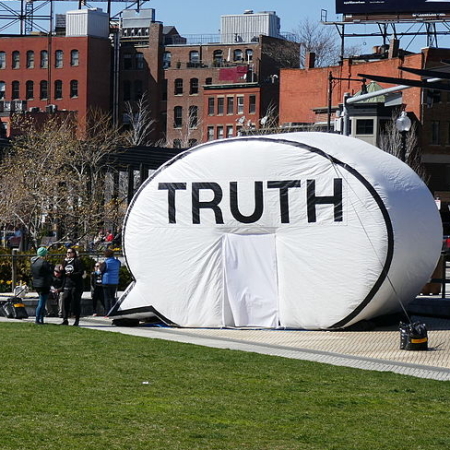 The public has entered the Truth booth, and will not be fooled
so easily again
Lending's experience gives us hope, as his patient population gives us a real window into the general public. That public apparently has slowly recognized, like Lending, the false agenda of the government health industry and the politicians who used that agenda to gain power. They are no longer buying it, in any way, and have finally recognized the truth of the COVID lie, even if many leaders in the political and health communities continue to refuse to do so.
It will therefore be the task of that public over then next few years to remove these close-minded people from positions of power and authority, and replace them with better and smarter people, people like Lending and the many individuals who were blacklisted for speaking truth to power since the onset of the Wuhan panic in the spring of 2020.
We can do this, because it appears we are in the majority. We just have to act with courage and determination, and not let these bullies bully us into submission, as they did in 2020.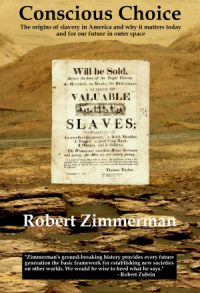 Now available in hardback and paperback as well as ebook!
From the press release: In this ground-breaking new history of early America, historian Robert Zimmerman not only exposes the lie behind The New York Times 1619 Project that falsely claims slavery is central to the history of the United States, he also provides profound lessons about the nature of human societies, lessons important for Americans today as well as for all future settlers on Mars and elsewhere in space.
Conscious Choice: The origins of slavery in America and why it matters today and for our future in outer space
, is a riveting page-turning story that documents how slavery slowly became pervasive in the southern British colonies of North America, colonies founded by a people and culture that not only did not allow slavery but in every way were hostile to the practice.
Conscious Choice
does more however. In telling the tragic history of the Virginia colony and the rise of slavery there, Zimmerman lays out the proper path for creating healthy societies in places like the Moon and Mars.
"Zimmerman's ground-breaking history provides every future generation the basic framework for establishing new societies on other worlds. We would be wise to heed what he says." —Robert Zubrin, founder of founder of the Mars Society.
All editions are available at Amazon, Barnes & Noble, and all book vendors, with the ebook priced at $5.99 before discount. All editions can also be purchased direct from the ebook publisher, ebookit, in which case you don't support the big tech companies and the author gets a bigger cut much sooner.
Autographed printed copies are also available at discount directly from me (hardback $24.95; paperback $14.95; Shipping cost for either: $5.00). Just email me at zimmerman @ nasw dot org.