Bumped: I posted this essay last July 20th on the anniversary of the Apollo 11 landing on the moon. I think it is worth rereading again, even as the shuttle is about to return to Earth for the last time.
Today, July 20th, is the anniversary of the Apollo 11 landing on the Moon, the first time ever that a human being arrived on another planet. Americans love to celebrate this event, as it symbolizes one of the finest moments in our history, when we set out to achieve something truly great and noble and succeeded far better than we could have imagined. Not only did we get to the Moon as promised, over the next three and a half years we sent another five missions, each with increasingly sophisticated equipment, each sent to explore some increasingly alien terrain. Forty-plus years later, no one has come close to matching this achievement, a fact that emphasizes how difficult it was for the United States to accomplish it.
There is one small but very important detail about the Apollo 11 mission, however, that most Americans are unaware of. In mounting the American flag, the astronauts found the lunar surface much harder than expected. They had a great deal of trouble getting the flagpole into the ground. As Andrew Chaikin wrote in his book, A Man on the Moon, "For a moment it seemed the flag would fall over in front of a worldwide audience, but at last the men managed to steady it." Then Armstrong took what has become one of the world's iconic images, that of Buzz Aldrin standing on the lunar surface saluting the flag of the United States of America.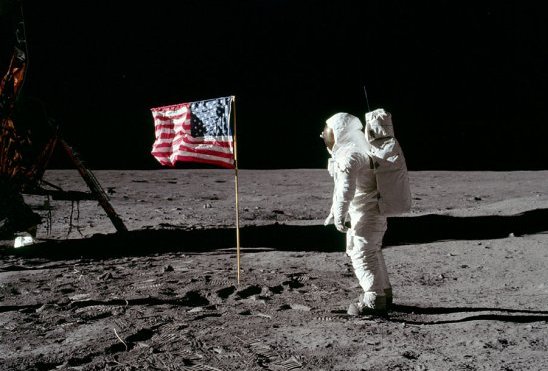 What people don't know, however, is that when Armstrong and Aldrin blasted off from the lunar surface, the blast wave from the Lunar Module's rocket knocked the flag over. As Chaikin also wrote, "Outside, a spray of gold foil and debris from the descent stage flew away in all directions. The flag toppled to the dust."
Thus, for the last four decades this American flag, shown so proudly unfurled on the surface of the Moon, has actually been lying unceremoniously on the ground, in the lunar dust.
It might actually be possible to see this, though the photos at this time remain unclear and quite blurry.
» Read more