The tenth anniversary retrospective of Behind the Black continues: In 2013 Diane and I made a trip back east to visit the Smokey Mountains and do some hiking. Coincidentally, our trip took place at the end of September, when the budget battle between Obama and the Republicans in Congress was about to cause a government shutdown. This essay, the first of three, describes the extra effort and money being exerted by Obama's administration to make that shutdown as unpleasant and as inconvenient to the American public as possible. The later two essays, linked to as an update at the top of the essay, outline what happened next.
——————————-
Shut down fascism in the Smoky Mountains
See my October 2, 2013 update here.
Today, October 1, 2013, my wife Diane and I went hiking in Great Smoky Mountains National Park. We did this despite the news from Washington that the federal government had shut down due to the lack of a funding from Congress and that all the national parks were closed.
The news reports had said that the National Park Service would close all roads into the park except for New Found Gap Road, the one road that crossed over the mountains from Tennessee to North Carolina. They couldn't close this road because it was a main thoroughfare used by the public for basic transportation. Moreover, my research into the hikes we wished to do told me that several of those hikes originated on trailheads along this road. In traveling the road the day before, we had seen that these trailheads would not only be difficult to close, it would be dangerous and stupid to close them. For one, the road was windy and narrow. If there was a car accident or someone had car problems, any one of these parking areas might be essential for the use of the driver as well as local police and ambulances. For another, there are people still backpacking in the mountains who will at some point need to either exit with their cars or be picked up at these trailheads. Closing the trailheads will strand these hikers in the park, with dangerous consequences.
So, despite the shutdown, off we went to hike the Appalachian Trail, going to a well known lookout called the Jump Off, an easy 6.5 mile hike that leaves from the parking area at New Found Gap, the highest point on New Found Gap Road that is also on the border between Tennessee and North Carolina. It is also probably one of the most popular stopping points along the road, visited by practically every tourist as they drive across.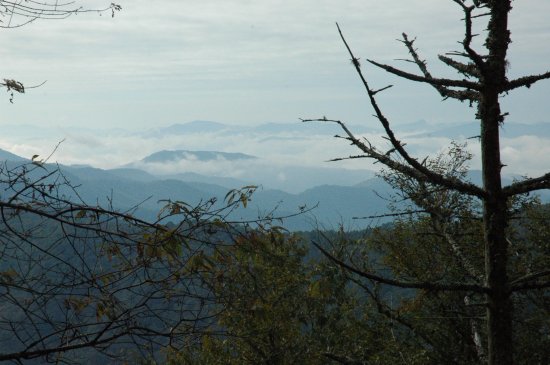 The hike itself was beautiful, if a bit foggy and damp. The picture above shows one of the clearest views we had all day. Nor were we alone on this hike. We probably saw one to two dozen other hikers, heading out to either the Jump Off or Charles Bunion (another well known day hike destination along this section of trail).
» Read more