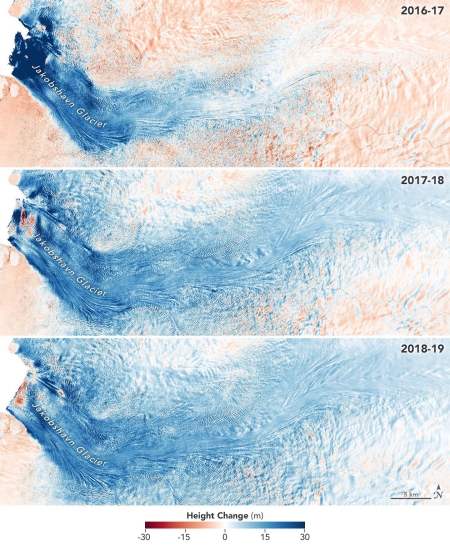 Click for full image.
Despite what the fake mainstream media and leftist Democratic Party politicians insist on telling us daily, the Greenland icecap remains largely stable, and shows no sign of disappearing anytime in the near future.
The image on the right, reduced to post here, is a series of images produced by radar instruments flown by a NASA airplane over Jakobshavn Glacier during the past three years and released this week by its project scientists. As noted in the release,
These images show the mass Greenland's Jakobshavn Glacier has gained from 2016-17, 2017-18 and 2018-19. Areas with the most growth are shown in dark blue. Red areas represent thinning. The images were produced using GLISTIN-A radar data as part of NASA's Ocean's Melting Greenland (OMG) mission.
While this research is absolutely worthwhile, the mission has clearly been shaped by the global warming activism in NASA and the climate science community. Thus, the scientists for this mission are forced to say this on their website:
Humans are changing the climate by burning fossil fuels for energy. These add greenhouse gases to the atmosphere, which trap extra heat from the sun and warm the air and oceans.
I would bet however that the scientists for this project remain very skeptical about this NASA political statement. That they highlighted here a glacier that is growing, in contradiction to the routine media and activist claims that Greenland's ice sheet is disappearing, indicates this.
Tony Heller at his climate blog today posted a very good summary of the very stable state of Greenland's icecap, while also pointing out the dishonest and incompetent reporting about it from mainstream media sources like the Washington Post and Fox News. Check it out. As he concludes:
There has been no trend Arctic sea ice since the start of MASIE records thirteen years ago.

Greenland glaciers are growing. The last two years had near record surface mass gain. The current journalistic standard of cherry picking a day here and there, and then misrepresenting the meaning of it, is journalism at its worst.
The data shows a decline in that icecap in the early part of this century, followed by a significant recovery in the past three years. As he says, there has been no trend.
Be aware of this when ignorant politicians like Congresswoman Alexandria Ocasio-Cortez (D-New York) try to tell you we are all going to die of global warming in mere years. These fear-mongers know nothing, and should be laughed from the stage.