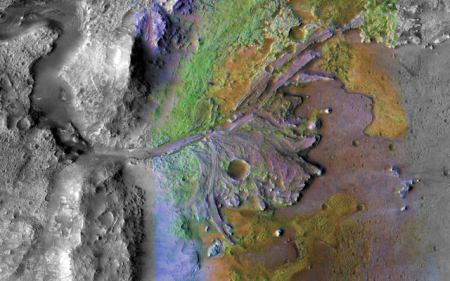 Jezero Crater delta
At this week's 50th Lunar and Planetary Science Conference in Texas, there were many papers detailing the geological, topographical, chemical, meteorology and biological circumstances at the landing sites for the 2020 Martian rovers, Jezero Crater for the U.S.'s Mars 2020 and Oxia Planum for Europe's Rosalind Franklin.
Most of these papers are a bit too esoteric for the general public (though if you like to delve into this stuff like I do, go to the conference program and search for "Jezero" and "Oxia" and you can delve to your heart's content).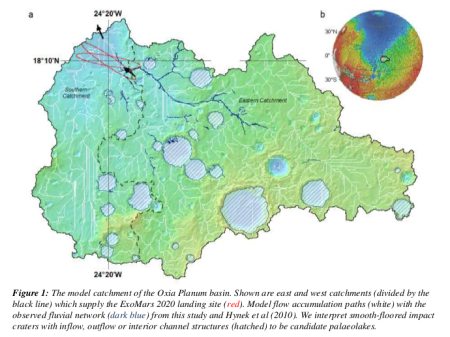 These papers do make it possible to understand why each site was chosen. I have already done this analysis for Rosalind Franklin, which you can read here and here. Oxia Planum is in the transition between the southern highlands and the northern lowlands (where an intermittent ocean might have once existed). Here can be found many shoreline features. In fact, one of the papers at this week's conference mapped [pdf] the drainage patterns surrounding the landing ellipse, including the water catchment areas, as shown by the figure from that paper on the right.
With this post I want to focus on Jezero Crater, the Mars 2020 landing site. The image above shows the crater's most interesting feature, an impressive delta of material that apparently flowed out of the break in the western wall of the crater.
This image however does not tell us much about where exactly the rover will land, or go. To do that, we must zoom out a bit.
» Read more