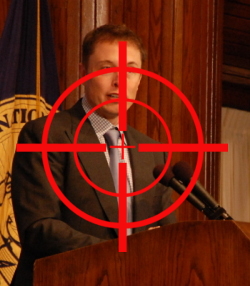 Musk now a target of the leftist press.
They're coming for you next: Elon Musk's effort to buy purchase of Twitter to end the ability of its leftist management and employees to censor opinions they don't like has apparently activated this same blacklisting effort against Musk and his companies across many media fronts, based on two stories yesterday.
First we have this story in a local Florida newspaper, describing a handful of letters of complaint to the Florida Department of Environmental Protection (FDEP) about SpaceX's proposal to build an industrial wastewater treatment facility on its leased facility on Cape Canaveral.
The draft proposal was first filed back on February 2, 2022. It requests permission from the Florida Department of Environmental Protection (FDEP) to create a facility that would "discharge up to 3,000 gallons per day of non-process potable water to a stormwater management system that, under specific conditions, discharges to a ditch leading to the Indian River Lagoon."

After notice of the draft proposal was published in Hometown News Brevard, it drew the attention of Titusville residents.
The article then proceeds to give us a detailed description of each complaint letter sent to FDEP, all five. Based on the similar language in all the letters, they appear to be part of a quickly organized campaign by local environmentalists to block any expansion of SpaceX's Florida operations. Because of these letters, FDEP has been forced to hold a public meeting today to discuss SpaceX's proposal.
Next, we have this story from Business Insider: » Read more