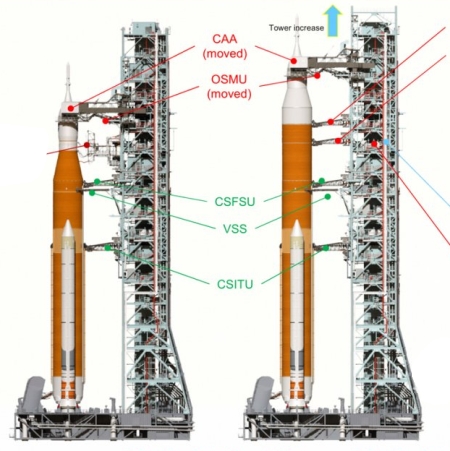 NASA's bloated SLS mobile launchers
According to an inspector general report [pdf] released today, the second mobile launcher being built by the company Bechtel to transport its SLS rocket from the assembly building to the launch site is likely going to cost more than $1.5 billion, three times what was initially budgeted, and will not be completed any earlier than the end of 2027, four years behind schedule.
Compounding Bechtel's projected cost increases and schedule delays, an ML-2 [mobile launcher-2] project analysis provided only a 3.9 percent confidence level that the nearly $1 billion cost [twice the original budget] and October 2025 [2.5 years late] delivery estimates were accurate. NASA requires projects to develop budgets and schedules consistent with a 70 percent joint cost and schedule confidence level (JCL), meaning a 70 percent likelihood the project will finish equal to or less than the planned costs and schedule. In fact, an Independent Review Team analysis determined the project would require an additional $447 million and 27 months, for a total contract value of $1.5 billion and a launcher delivery date of December 2027—a schedule that would enable an Artemis IV launch no earlier than the end of 2028.
The first mobile launcher, shown on the left in the graphic, cost more than $1 billion and will used only three times, at most. The second, on the right, is required for all of the assigned interplanetary tasks being given to the full size version of SLS beyond those first three test flights. Without it that version of SLS cannot launch. And even if the launcher is ready by 2028, as the IG report suggests, that will be more than a decade behind schedule, and six years from now.
» Read more