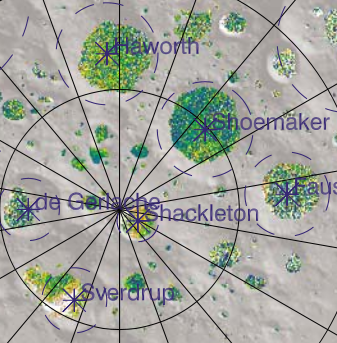 In a paper published today in the Journal for Geophysical Research, Planets, the science team for Lunar Reconnaissance Orbiter describe how they have used starlight to peer into the permanently shadowed craters of the Moon's north and south poles. Looking only during the lunar night, they measured the dim albedo of the Moon from reflected starlight. From this very weak signal they were able to cull two interesting facts about these very cold and very dark places.
The ground at the bottom of these craters is more porous than the surrounding unshadowed terrain.
There is evidence in the spectroscopy of 1 to 2% water frost in these craters.