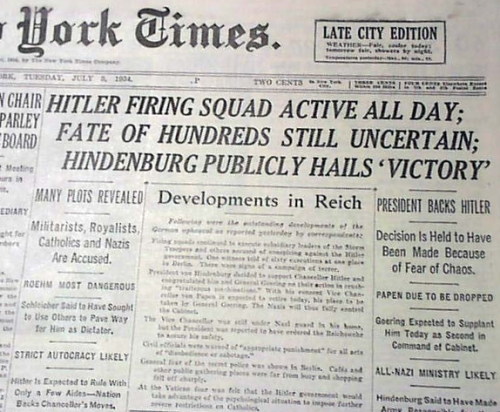 Hitler's violent purge of his opponents in 1934: The Night of Long Knives.
I have just finished reading The Memo: 20 years inside the deep state fighting for America first. Written by military intelligence and national security expert Richard Higgins, it described his long and mostly fruitless effort in Washington to make our foreign military policy more effective.
In 2016, in desperation, he allied himself with Donald Trump, hoping that a victory by this very unconventional outsider might finally put Higgins in a position of some control.
It did not work out that way. At first the established players in Washington blocked his appointment. Eventually he managed to get an assignment at the National Security Council (NSC), but at a lower ranking than initially promised. Worse, the make-up of that council remained largely controlled by Democratic Party holdovers. As Higgins described things at the NSC in the first year after Trump's inauguration:
» Read more