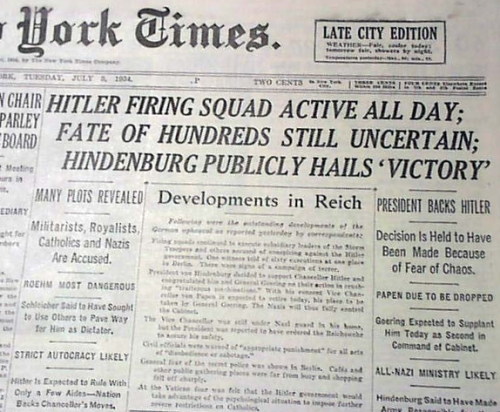 Hitler's violent purge of his opponents in 1934: The Night of Long Knives.
I have just finished reading The Memo: 20 years inside the deep state fighting for America first. Written by military intelligence and national security expert Richard Higgins, it described his long and mostly fruitless effort in Washington to make our foreign military policy more effective.
In 2016, in desperation, he allied himself with Donald Trump, hoping that a victory by this very unconventional outsider might finally put Higgins in a position of some control.
It did not work out that way. At first the established players in Washington blocked his appointment. Eventually he managed to get an assignment at the National Security Council (NSC), but at a lower ranking than initially promised. Worse, the make-up of that council remained largely controlled by Democratic Party holdovers. As Higgins described things at the NSC in the first year after Trump's inauguration:

Within a couple of days of my starting there, I realized that the place was staffed, largely anyways, with legacy personnel from the Obama administration. They were technically "holdovers." But it was pretty clear that they weren't planning on going any place and there was nobody around with any interest in getting rid of them in order to make room for people appointed by Trump. People who would be, therefore, loyal to his MAGA agendas.

Which the holdovers most definitely were not. Instead of being committed to advancing the President's agenda, they were determined to sabotage it. And they evidently didn't care who knew it.

[Higgins then lists a number of these anti-Trump individuals, including Eric Ciaramella, the whistleblower who's fake accusations against Trump relating to Ukraine helped instigate the impeachment effort in early 2020.]

And there were many more. The NSC was crawling with them.

Against six or seven of us MAGA types.

It was, to say the very least, a strange dynamic. We were people who believed in the President's agenda and were working to advance it. They were unalterably opposed to him and wanted to sabotage that agenda.

But we were the ones who were outnumbered and playing defense. [emphasis mine]
In the end, the continuing control by Obama holdovers in this and other intelligence agencies resulted in a fake Russian collusion investigation, spying on the president, and a fake impeachment effort. All against the duly and legally elected president by a gang of partisan anti-American Democrats acting as a fifth column in the executive branch.
The saddest part of this story however is how so totally typical it is for Republican administrations since the 1980s. Republican elected officials have routinely been very lax about cleaning house of Democratic appointees, once in power. They make a few miscellaneous appointments, but in general let the previous Democratic Party operatives hold sway.
The Democrats however have never had any qualms about firing everyone if necessary to get the policies they want enacted. In fact, both Bill Clinton and Barack Obama were merciless in eliminating as soon as possible any Republican holdovers, so that very quickly their administrations were being run by their supporters, with no dissenting views.
This was Trump's biggest failure. All he had to do was exercise his due powers and fire a lot of people — like Clinton and Obama — replacing them with those who supported him. No violence, no illegalities, no brutality was necessary, only the reasonable actions of an executive trying to implement his policies.
Trump, like the Bushes before him, did not do this. At first you could excuse him in that he did not yet know the landscape, and was thus unsure who his allies were in government, and who were the subversives working to sabotage him.
By his second year in office, however, that landscape was quite obvious, and still Trump did little to remove the Democratic operatives embedded in his administration. Even in the last few months, with the complete refusal of the Justice Department to bring any charges against anyone involved in the illegal FISA warrants or the spying on the Trump administration aimed and overthrowing the administration, Trump did little or nothing.
For a man who made his biggest repetition firing people in a reality show, this reluctance to clean house in the executive branch was especially ironic.
As I said, the left has never had any qualms about purges and blackballing. Nor have they had much interest in recent years with the niceties of civilization in these purges. In academia and the mainstream media they began this process in the 1960s, and by 2000 had successfully removed all conservatives from those entities. Not only is less than 1% of all professors or faculty in our universities conservative, the few that remain live in fear of being fired and even physically attacked, should they be public about their views. And woe to any conservative student who speaks out.
The same thing happened in the mainstream press. If you dared express any conservative leanings at all in the past three decades, you were guaranteed to discover your career hindered, and possibly squelched entirely. (I write here from personal experience.) Like academia, this blackballing process has resulted today in a mainstream press that is totally married to the Democratic Party and its agenda, sometimes to a point of lying and expressing outright hatred for that party's opponents.
With the likely arrival in January of a Biden administration, we can now expect this purge process to accelerate. There will be no hesitancy or good will, as seen during the naive Trump administration. Expect all Republicans and any fair-minded Democrats to be removed from the bureaucracy in the next four years, replaced by rapid partisan leftist progressives. Not only will the goal be to quickly consolidate their power, they will want to remove any questioning eyes as they reshape the laws to that end, sometimes illegally or inappropriately. Elections will be made less fair and easier to fake. Dissent will become more difficult, and carry worse consequences. Regulations will be honed to encourage their power, and to hobble their opponents.
With the completion of this purge, I doubt whether a legitimate election will ever be possible again, especially since I do not have much faith in the Republican Party to push for any reforms in the election process that was used to fake this 2020 presidential election. At the state level that party still has a lot of power. If in the next four years it used that power effectively it could still force real reforms that would make future elections secure, prevent a repeat of this November's election debacle, and likely secure their own victories, because the majority of the general public still does not support the socialist and totalitarian vision of today's Democratic Party.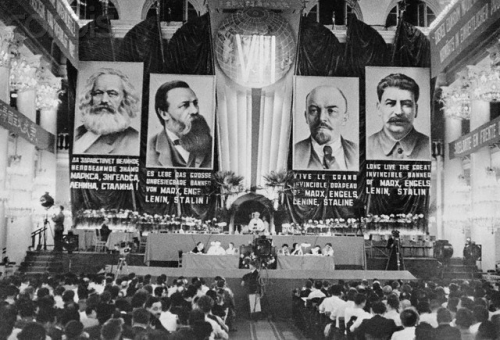 The 1936 show trials in the U.S.S.R.
Sadly, I fear today's Republicans will not do this. They will instead sit on their hands, as they have for decades, and quietly pocket their own payoffs from donors as they let the Democrats reshape the election system to their needs. This is what the Republicans did in California and many other urban cities in the last half century, resulting in essentially Democratic Party monopolies. For a Republican to win office in these jurisdictions today is nigh on impossible.
I expect nothing different in the next few years. The modern leadership in the Republican Party doesn't represent its conservative base, which is why an outsider like Trump was chosen by that party's base in 2016. It is also why too many Republican elected officials appear to not care that Trump might be removed from office now, under suspicious circumstances. They really want him gone, as he disturbs the cushy game they play with Democrats in the halls of power.
At this moment I fear that unless the American people rise up with real fury and action, freedom is truly dead. Worse, expect future purges by the totalitarians now taking power to become more vicious, more cruel, more brutal, with the possibility that we will soon have our very own American night of long knives, and our very own American show trials.
It is what totalitarians do, if you give them the power to do it.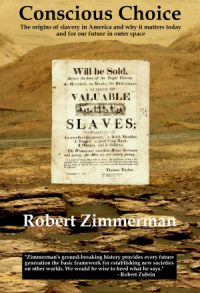 Now available in hardback and paperback as well as ebook!
From the press release: In this ground-breaking new history of early America, historian Robert Zimmerman not only exposes the lie behind The New York Times 1619 Project that falsely claims slavery is central to the history of the United States, he also provides profound lessons about the nature of human societies, lessons important for Americans today as well as for all future settlers on Mars and elsewhere in space.
Conscious Choice: The origins of slavery in America and why it matters today and for our future in outer space
, is a riveting page-turning story that documents how slavery slowly became pervasive in the southern British colonies of North America, colonies founded by a people and culture that not only did not allow slavery but in every way were hostile to the practice.
Conscious Choice
does more however. In telling the tragic history of the Virginia colony and the rise of slavery there, Zimmerman lays out the proper path for creating healthy societies in places like the Moon and Mars.
"Zimmerman's ground-breaking history provides every future generation the basic framework for establishing new societies on other worlds. We would be wise to heed what he says." —Robert Zubrin, founder of founder of the Mars Society.
All editions are available at Amazon, Barnes & Noble, and all book vendors, with the ebook priced at $5.99 before discount. The ebook can also be purchased direct from my ebook publisher, ebookit, in which case you don't support the big tech companies and I get a bigger cut much sooner.
Autographed printed copies are also available at discount directly from me (hardback $24.95; paperback $14.95; Shipping cost for either: $5.00). Just email me at zimmerman @ nasw dot org.