Tag Archives:
Shackleton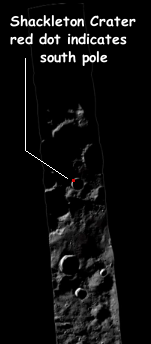 Since the 1990s, scientists have suspected that water-ice might be hidden in the forever-dark floors of the polar craters on the Moon. If so, these locations become valuable real estate, as they not only would provide future settlers water for drinking, the water itself can be processed to provide oxygen and fuel.
Moreover, the high points near these craters, including the crater rims, are hoped to be high enough so that the sun would never set or be blocked by other mountains as it made its circuit low along the horizon each day. If such a place existed, solar panels could be mounted there to generate electricity continuously, even during the long 14-day lunar night.
Below the fold is a six minute video, produced from images taken by Lunar Reconnaissance Orbiter (LRO) from February 6, 2010 to February 6, 2011, in an effort to find out if such a place actually exists. It shows how the sunlight hits the south pole across an entire year.
» Read more
Mining the moon for water and nuclear fuel

Mining the moon for water and fuel.

Texas-based Shackleton Energy Company has already begun operations aimed at mining the Moon within the next few years. 

The company's plans for mining and refining operations would involve melting the ice and purifying the water, converting the water into gaseous hydrogen and oxygen, and then condensing the gases into liquid hydrogen, liquid oxygen and hydrogen peroxide, all potential rocket fuels.

Shackleton CEO Dale Tietz says the water extracted would be used almost exclusively as rocket fuel to power operations both within Low Earth Orbit (LEO) – such as space tourism and the removal of space-debris – on the Moon, and further out into space. 'We are a for-profit business enterprise moving forward, and so we are only going there really for one reason and that is to mine, prospect mine and harvest water for rocket propellant production,' says Tietz.