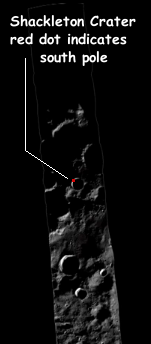 Since the 1990s, scientists have suspected that water-ice might be hidden in the forever-dark floors of the polar craters on the Moon. If so, these locations become valuable real estate, as they not only would provide future settlers water for drinking, the water itself can be processed to provide oxygen and fuel.
Moreover, the high points near these craters, including the crater rims, are hoped to be high enough so that the sun would never set or be blocked by other mountains as it made its circuit low along the horizon each day. If such a place existed, solar panels could be mounted there to generate electricity continuously, even during the long 14-day lunar night.
Below the fold is a six minute video, produced from images taken by Lunar Reconnaissance Orbiter (LRO) from February 6, 2010 to February 6, 2011, in an effort to find out if such a place actually exists. It shows how the sunlight hits the south pole across an entire year.

Before you watch, let me first give some explanation of what this video shows you. Each time LRO's two-hour-long orbit took it over the south pole, it would snap an image, essentially a long swath with the sunlight coming from one end and the pole itself at the center. Because the Moon rotates below the spacecraft, the angle at which this swath was photographed changes each time. Thus, as you watch, the swath rotates around, completing one full rotation for each lunar day.
This means that the only place appearing in every image is the region around pole itself, and central to this region is the crater Shackleton, which NASA has made a considerable effort to study as it sits right on the south pole and appears to have a sufficiently useful flat area on its rim for establishing a lunar base.
As the swath rotates, Shackleton is always captured, and you can see the pattern of shadow and sunlight change on its rim from hour to hour. Unfortunately for future explorers, it appears from this compilation that there is no place on Shackleton's rim that is illuminated continuously year round, though different parts of the rim get more light than others. A careful analysis of these images will tell engineers exactly what spot on the rim gets the most light, and even how high above the ground their solar panels would have to be mounted to remain forever in eternal sunlight.
In other words, this spot on the Moon is valuable because everyone is going to want to own it. Obviously, whoever gets there first will have the most say on that ownership.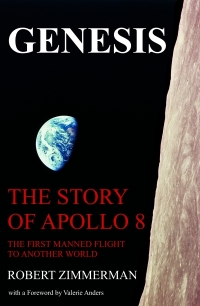 On Christmas Eve 1968 three Americans became the first humans to visit another world. What they did to celebrate was unexpected and profound, and will be remembered throughout all human history. Genesis: the Story of Apollo 8, Robert Zimmerman's classic history of humanity's first journey to another world, tells that story, and it is now available as both an ebook and an audiobook, both with a foreword by Valerie Anders and a new introduction by Robert Zimmerman.
The ebook is available everywhere for $5.99 (before discount) at
amazon
, or direct from my ebook publisher,
ebookit
. If you buy it from
ebookit
you don't support the big tech companies and the author gets a bigger cut much sooner.
The audiobook is also available at all these vendors, and is also
free with a 30-day trial membership to Audible.
"Not simply about one mission, [Genesis] is also the history of America's quest for the moon... Zimmerman has done a masterful job of tying disparate events together into a solid account of one of America's greatest human triumphs."--San Antonio Express-News