At the end of the last spacewalk during this last servicing mission to Hubble, astronaut John Grunsfeld took a few moments to reflect on Hubble's importance. This was Grunsfeld's third spaceflight and eighth spacewalk to Hubble, and no one had been more passionate or dedicated in his effort to get all of Hubble's repairs and upgrades completed.
"As Arthur C. Clarke says," Grunsfeld said, "the only way of finding the limits of the possible is by going beyond them into the impossible."
For most of human history, the range of each person's experience was of a distant and unreachable horizon. This untouchable horizon defined "the limits of the possible." No matter how far an individual traveled, there was always a forever receding horizon line of unknown territory tantalizingly out of reach before him.
In earliest prehistoric times, the size of the known territory within that horizon line was quite small. Each villager knew a region ranging from ten to fifty miles in radius. He or she knew there were people and villages beyond the horizon, but never saw them. Moreover, even the most traveled explorer had a limit to his range, and knew that at some distant point what lay beyond that horizon was a complete mystery.
Later, as human civilization progressed, the size of known territory within that horizon line expanded. Different cultures met, exchanged information about each other, and recorded the data so that even those who did not travel far from their homes could know something of distant lands beyond their personal horizon. Still, explorers who pushed the horizon found that it continued to forever recede. No matter how far they traveled, the horizon was always ahead of them, an impossible goal beckoning them onward to find new lands unexplored.
Then humans reached the ocean and the sailors took over. To the mariner, there was still a forever receding horizon of great mystery, but he initially feared traveling out towards it because it was dangerous and risky. The ocean was a vast desert, with no food or water. Worse, that desert could suddenly become violent, heaving his ship about and tearing it to shreds.
With time, ship designs improved, and the mariners began journeying outward. The Vikings sailed out into the northern seas to find more lands and more endless unknown territories. Later, using better ships that were more reliable, Columbus pushed the western horizon and this time the visit was permanent. Even for Columbus, however, the horizon was still an impossible goal out of reach. He had sailed west, hoping to reach China and thus circumscribe the very limits of the horizon. Instead he discovered the New World, with its vast new territories and unlimited possibilities.
Nonetheless, the impossibility of touching that horizon had never been a deterrence, for either Columbus or anyone else. As the poet Robert Browning wrote, "Ah, but a man's reach should exceed his grasp,/Or what's a heaven for?" People from all cultures felt compelled to reach for that unreachable distant goal, "to go beyond the possible and try to touch the impossible."
It was with Magellan, however, that the impossible became possible, and the limits of the horizon were finally reached. For though he set out "to sail beyond the sunset," traveling west as far as he could go, the horizon did not recede forever away from him into unknown lands. Instead, the survivors of Magellan's epic voyage circled the globe and found themselves back where they had started, in a known place. The unknown horizon was gone. Humanity for the first time knew the limits of the world. The impossible no longer existed.
For the next five centuries the human race was consumed with learning and exploring and settling the limits of this Earth, delving into its every corner, from the freezing poles to the bottom of the ocean to the highest mountaintop. In all cases, however, the Earth was a prison, placing a curb to exploration. No matter how deeply humans probed, they were still trapped on a spherical world, a giant prison floating in the blackness of space. There was no visible but untouchable horizon to reach for.
The Hubble Space Telescope, along with all the early manned and unmanned space probes of the past half century, have given us that horizon back. We are no longer trapped on this Earth. We now can travel outward with increasing sophistication, either in manned spaceships or with unmanned robots like Hubble, pushing against a new infinite horizon that — instead of a horizon line — is a black sky above us and receding away from us in all directions.
Perhaps the best and most noble of all human behaviors has been the never-ending effort to push back against that infinite blackness, to find out what lies behind it and get some fundamental answers to our questions about life, the universe, and existence itself. For me, it is essential that all of us always ask that next question, always challenge what is known so as to find out what is unknown, and always reach out for that "unreachable star."
Grunsfeld finished his last spacewalk to Hubble by adding this one small thought, "As Drew [Feustel] and I go into the airlock, I want to wish Hubble its own set of adventures, and with the new set of instruments we've installed, that it may unlock further mysteries of the universe."
Hubble, as well as all human exploration, has given us the first detailed and clear glimpse of what lies hidden in the black untouchable horizon above us. May we not shirk from that adventure, but reach out to grasp it fully, even if we cannot ever really touch its limits.
Revised from the afterword of the paperback edition of The Universe in a Mirror.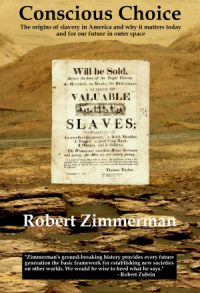 Now available in hardback and paperback as well as ebook!
From the press release: In this ground-breaking new history of early America, historian Robert Zimmerman not only exposes the lie behind The New York Times 1619 Project that falsely claims slavery is central to the history of the United States, he also provides profound lessons about the nature of human societies, lessons important for Americans today as well as for all future settlers on Mars and elsewhere in space.
Conscious Choice: The origins of slavery in America and why it matters today and for our future in outer space
, is a riveting page-turning story that documents how slavery slowly became pervasive in the southern British colonies of North America, colonies founded by a people and culture that not only did not allow slavery but in every way were hostile to the practice.
Conscious Choice
does more however. In telling the tragic history of the Virginia colony and the rise of slavery there, Zimmerman lays out the proper path for creating healthy societies in places like the Moon and Mars.
"Zimmerman's ground-breaking history provides every future generation the basic framework for establishing new societies on other worlds. We would be wise to heed what he says." —Robert Zubrin, founder of founder of the Mars Society.
All editions are available at Amazon, Barnes & Noble, and all book vendors, with the ebook priced at $5.99 before discount. The ebook can also be purchased direct from my ebook publisher, ebookit, in which case you don't support the big tech companies and I get a bigger cut much sooner.
Autographed printed copies are also available at discount directly from me (hardback $24.95; paperback $14.95; Shipping cost for either: $5.00). Just email me at zimmerman @ nasw dot org.