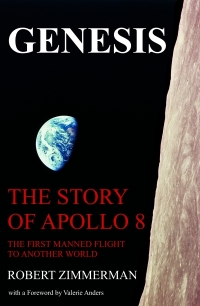 On Christmas Eve 1968 three Americans became the first humans to visit another world. What they did to celebrate was unexpected and profound, and will be remembered throughout all human history. Genesis: the Story of Apollo 8, Robert Zimmerman's classic history of humanity's first journey to another world, tells that story, and it is now available as both an ebook and an audiobook, both with a foreword by Valerie Anders and a new introduction by Robert Zimmerman.
The ebook is available everywhere for $5.99 (before discount) at
amazon
, or direct from my ebook publisher,
ebookit
.
The audiobook is also available at all these vendors, and is also
free with a 30-day trial membership to Audible.
"Not simply about one mission, [Genesis] is also the history of America's quest for the moon... Zimmerman has done a masterful job of tying disparate events together into a solid account of one of America's greatest human triumphs." --San Antonio Express-News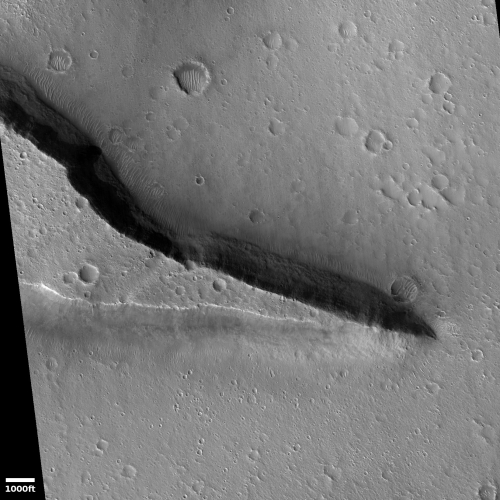 Click for full image.
Time to take a cool image and go sight-seeing. The photo to the right, cropped and reduced to post here, was taken by the high resolution camera on Mars Reconnaissance Orbiter (MRO) on May 25, 2020, and shows a spectacular knife-edge mesa, its cliffs more than 650 feet high on either side.
This knife mesa sits among a bunch of similar mesas, and appears to be in a region that could be called chaos terrain, formed by flowing water or ice along faults, cutting criss-crossing canyons with mesas between.
This mesa points east out from the Kasai Valley, the second largest canyon draining out from the Tharsis Bulge that contains Mars' largest volcanoes. The overview map below provides some context, with the white cross indicating the location of today's cool image.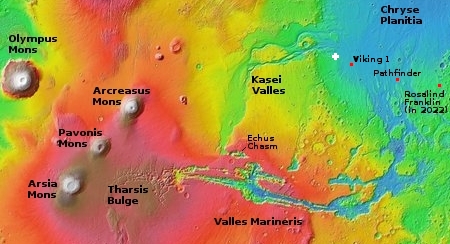 According to this 2019 paper [pdf], Kasei Valles was created by both volcanic and glacial processes, with the added possibility of liquid catastrophic floods. This particular paper theorized that the upper section of Kasei, oriented south-to-north and relatively smooth-floored and oblong-shaped, was once a large lake caused by a dam that when that dam broke the water quickly flooded the lower parts of the valley, causing the deeper channels and mesas we see there.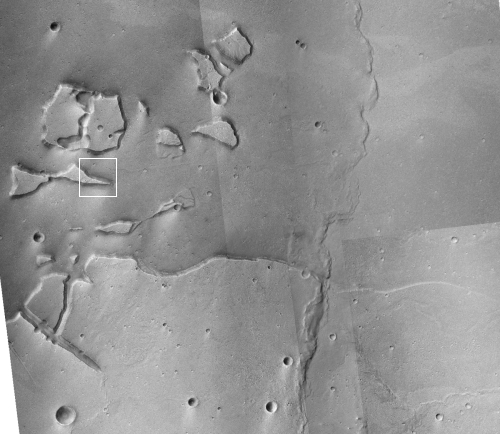 What I saw when I first looked at this image was a magnificent place to hike. Imagine walking along the crest of this mesa, with outstanding views in all directions!
The mosaic to the right was compiled from four photos taken by the context camera on MRO, designed to give scientists a wider view. The white rectangle indicates the location of the above image. From this overview the chaos terrain nature where this mesa exists is obvious. Also visible is evidence of a catastrophic flow pushing through from the west to the east, carving these mesas as well as many smaller features in the bottom-lands as that flow drained out into Chryse Planitia, part of Mars' vast northern lowland plains.
What makes this knife mesa even more enticing as a future hiking objective is that, not far beyond the eastern edge of this mosaic sits Viking-1, the first spacecraft to successfuly soft land on the Martian surface, placed there by the United States on July 20, 1976, the seventh anniversary of the Apollo 11 landing on the Moon.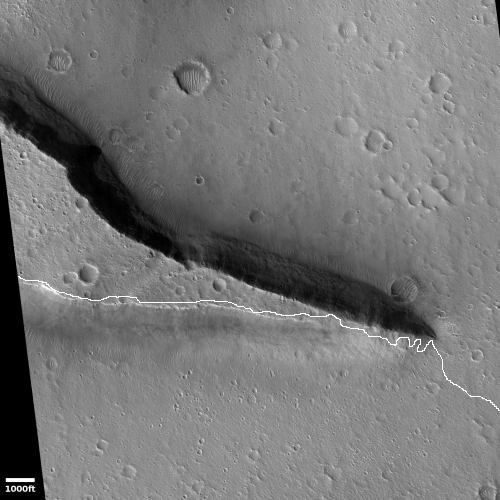 To the right is the same image from above, but this time I have annotated it with a proposed hiking trail, working along the south rim of the mesa to then switchback down the mesa's nose, where the slope is reasonable. The trail could then head out onto Chyse Planitia towards that Viking-1 landing site, about 100 miles away.
In fact, I could easily see later generations of Martian settlers creating a Mars-wide trail, running from Olympus Mons, to the southeast between Arcreasus and Pavonis Mons, then to the northern rim of Marineris Valles, then cutting north into Kasei Valles to follow this valley to traverse Knife Mesa for its views, then out into Chryse Planitia to visit the landing sites of Viking 1, Pathfinder, and the European rover Rosalind Franklin.
And that's only this side of the planet. The trail could circle the globe, visiting many of the first unmanned landing sites as well as some the Mars' most spectacular geological features.
I know this proposed trail is only a casual fantasy of mine. I also know that it will someday be real, if only we remain bold and continue to attempt great things, despite the risk.
Readers!
My July fund-raiser for Behind the Black is now over. The support from my readers was unprecedented, making this July campaign the best ever, twice over. What a marvelous way to celebrate the website's tenth anniversary!

Thank you! The number of donations in July, and continuing now at the beginning of August, is too many for me to thank you all personally. Please forgive me by accepting my thank you here, in public, on the website.

If you did not donate or subscribe in July and still wish to, note that the tip jar remains available year round.
Regular readers can support Behind The Black with a contribution via paypal:
If Paypal doesn't work for you, you can support Behind The Black directly by sending your donation by check, payable to Robert Zimmerman, to

Behind The Black
c/o Robert Zimmerman
P.O.Box 1262
Cortaro, AZ 85652