I originally posted the essay below a year ago when we first learned that Rush Limbaugh was seriously ill with lung cancer. With his passing today, I think it needs to be reread, with an addendum at the end.
A historian's memorial to Rush Limbaugh (February 4, 2020)
It was very strange to me to hear yesterday's sad announcement by Rush Limbaugh that he had been diagnosed with advanced lung cancer. In the last six months or so my mind had actually been contemplating the fact that Limbaugh had been doing his show for more than three decades, was in his late sixties, and was not immortal. I had been trying to imagine what it would be like when he was no longer a fixture in the daily news reporting cycle, and I had been failing. I couldn't imagine it.
Now it appears we might all be finally facing it. As they say, reality bites.
For those who have listened to him regularly these past three decades, the loss will be immeasurable. Without question Rush Limbaugh has been the best political analyst, from a conservative perspective, for the past half century. You might disagree with his opinions, but no one has been as correct and as pertinent and as thoughtful, consistently getting to the heart of every political battle, and doing it in an amazingly entertaining manner.
I first heard Rush Limbaugh back in 1988, when I lived in New York and was starving for a different and refreshing perpective on the news.

This was before the internet. Pretty much all news reporting and analysis was filtered through the three major networks (CBS, NBC, ABC), the public radio news outlet of NPR, and the cable network of CNN. All were liberal Democratic outlets, though in those days they actually did try to report news correctly, and in detail. Their problem was not that they were blatant operatives for the Democratic Party (which is what they are today) but that they were trapped in that liberal bubble. They had almost no one to talk to who could give them a different perspective, and thus all their analysis was written and reported from that liberal point of view. Even when they gave space for dissent, they could not help but portray it as a fringe view, because that was how they saw it from their daily experience.
For me, who liked to hear many points of view, I found this sameness of thought boring. I wanted more, and was having trouble finding it.
I was then very much a night owl, doing most of my writing in the afternoon and evening. As part of my slow waking-up process, I would get up about 9 am, go down to the corner newsstand, get a paper, come up and read it for an hour or so. Then I'd begin making lunch about 11 am. While I did so I would scan the talk radio dial for something to listen to.
The late 1980s was the moment when conservative talk radio was about to be born. The Reagan administration had quietly lifted the fairness doctrine so that radio and television no longer had to give time to both sides of every political argument. That rule, considering the liberal bent of all major news outlets, had essentially worked very well to stifle most conservative political analysis.
Now, however, open political discussion was finally possible on the public airways, and Rush Limbaugh's show was the first to take advantage of this in a big way. Initially his show in New York was four hours long, with the first hour a local show for WABC-AM and the remaining three hours his national syndicated broadcast. He would open each of those four hours with a fifteen to twenty minute monologue, which in itself was refreshing as it allowed him to discuss his topic with some depth.
He was also decidedly not liberal. He looked at the news from a more conservative, traditional perspective. And he definitely did not treat the liberal Democratic point of view as the default. Instead, he questioned it, bluntly.
And finally, and most important, he was hilarious and entertaining. He was incredibly fun to listen to, whether or not you agreed with him.
It did not take long for his show to succeed, with its syndication soon spreading like wildfire. In only a few years there was not a city or town anywhere in the U.S. where you could not hear it.
It also did not take long for the liberal mainstream culture to see him as an enemy that must be taken down, by any means necessary. They tried slander. They tried boycotts. They tried threats.
Nothing worked. Since all the attacks were untrue, and his syndication was structured in such a way that no one could cancel him easily, he simply smiled, laughed the attacks off, and moved on.
Now, after more than thirty years, he may soon be leaving us. It will be a great loss. Possibly more than any other person, Rush Limbaugh changed the political and cultural landscape of the United States in the past three decades. Before him, there was only one perspective on the news. After him there were thousands. He gave this country its freedom from accepted wisdom, tightly held dogma, and a liberal mindset that has calcified our intellectual social order.
No longer were free-thinking Americans like myself condemned to listen to a chorus of liberal ideas, with no push back. Limbaugh showed that there was an audience for other perspectives, and that money could be made expressing them. The political debate would never be the same.
In the future there will be historians writing about the American political drama during these last few decades. For them to tell that story right, they will be required to include Limbaugh's appearance on that scene, and how he changed it. To ignore his importance would be to write bad history.
In a free society, politics is never simple or one-sided. It requires debate, and disagreement, and argument. Only then can that free society reach a wise decision on what to do.
Rush Limbaugh made such debate possible again in the United States. As a nation we must never forget this.
And while he is not yet gone from us, we must face up to the fact that he is human, and soon will be. His legacy however will live on, for generations, as many others have and will continue to take up his banner and force a debate on the issues of the day. No longer will one view dominate the airways.
Rush Limbaugh has set it free.
Thank you Rush. I give you my heartfelt dittos!
Addendum, February 17, 2021, on the passing of Rush Limbaugh
The last time I listened to Rush Limbaugh live was about three weeks ago. During that particular show he tried at one point to express something he knew would sound wrong, no matter how he said it.
You see, after thirty years of trying to convince the American public that freedom, limited government, and the rule of law were good things, Limbaugh had watched in the last year all these ideas abandoned by the American people. Deep down, he felt that his life's work had been a failure, but it seemed to him ill-mannered and ungracious to say so on the air. All he could do was hint at it.
Yet I understood exactly where he was coming from. Like Limbaugh I have strived in all my histories and much of my writing to explain the glory of the American experiment in freedom and self-government. And yet, I have been entirely unable to get anyone who needs to learn these facts to listen. Nor am I alone. Anyone who has tried to celebrate America and its principles since the 1960s has consistently found that they were summarily rejected by the modern post-sixties culture. America was wrong! Another way must be found! And stop telling us otherwise.
We are now approaching the end of that road to tyranny. Too many young Americans are now completely ignorant of what it means to be a free American, and in fact if you even hinted that they were a free American many would be horrified to be associated with that concept. The American dream has been squashed, and it will likely take a generation or two to bring it back.
This sad perspective does not mean we should not try. No, in fact every American who believes in freedom, in self-government, in personal responsibility, in the rule of law, in equal treatment before the law, in the Bill of Rights, the Constitution, and the central ideals expressed in that first paragraph of the Declaration of Independence, is now required even more so to proclaim those ideals, over and over and over again. Be not afraid, even as the jack-booted thugs that now run our society try to silence you.
Tell them, like Rush Limbaugh, you will not be silenced, and like him, you will speak loudly and confidently, and most of all, do so with pride and courage.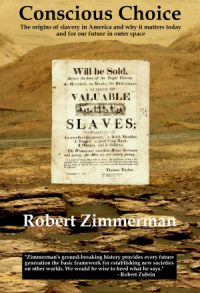 Now available in hardback and paperback as well as ebook!
From the press release: In this ground-breaking new history of early America, historian Robert Zimmerman not only exposes the lie behind The New York Times 1619 Project that falsely claims slavery is central to the history of the United States, he also provides profound lessons about the nature of human societies, lessons important for Americans today as well as for all future settlers on Mars and elsewhere in space.
Conscious Choice: The origins of slavery in America and why it matters today and for our future in outer space
, is a riveting page-turning story that documents how slavery slowly became pervasive in the southern British colonies of North America, colonies founded by a people and culture that not only did not allow slavery but in every way were hostile to the practice.
Conscious Choice
does more however. In telling the tragic history of the Virginia colony and the rise of slavery there, Zimmerman lays out the proper path for creating healthy societies in places like the Moon and Mars.
"Zimmerman's ground-breaking history provides every future generation the basic framework for establishing new societies on other worlds. We would be wise to heed what he says." —Robert Zubrin, founder of founder of the Mars Society.
All editions are available at Amazon, Barnes & Noble, and all book vendors, with the ebook priced at $5.99 before discount. The ebook can also be purchased direct from my ebook publisher, ebookit, in which case you don't support the big tech companies and I get a bigger cut much sooner.
Autographed printed copies are also available at discount directly from me (hardback $24.95; paperback $14.95; Shipping cost for either: $5.00). Just email me at zimmerman @ nasw dot org.