The words spoken during the opening credits of a 1950s children's television show:
Faster than a speeding bullet.
More powerful than a locomotive.
Able to leap tall buildings in a single bound.
Look up in the sky!
It's a bird.
It's a plane.
It's Superman!

Yes, it's Superman, strange visitor from another planet who came to Earth with powers and abilities far beyond those of mortal men.

Superman, who can change the course of mighty rivers, bend steel in his bare hands, and who, disguised as Clark Kent, mild-mannered reporter for a great metropolitan newspaper, fights a never-ending battle for truth, justice, and the American Way.
That television show was obviously Superman, starring George Reeves, and these opening words expressed the mythology and basic ideals by which this most popular of all comic-book super-heroes lived.
I grew up with those words. They had been bequeathed to me by the American generation that had fought and won World War II against the genocidal Nazis, and expressed the fundamental ideals of that generation.
Much of the meaning of these fundamental ideals is outright and clear.
Truth means you always strive to be honest, and when you make a mistake you admit to it, without flinching. Or as Superman says quite clearly in the 1978 film, "I never lie," saying this immediately after repeating that he is here "to fight for truth, justice, and the American way."
Justice means you strive to administer the rules fairly so that the innocent are protected and the guilty are punished properly. It also means that you treat others justly, with respect and kindness, while defiantly standing up to those who would do the weak harm.
The phrase "the American Way" however is more puzzling. As a child I accepted it, but I have spent a lifetime as a historian and reader trying to understand it on a more fundamental level. The writers in the 1950s who gave that task to Superman knew what it meant, and assumed everyone else did. By the 1950s and 1960s they however no longer did a good job of teaching its meaning to my sixties generation, and many from my time grew up not understanding it.
I think I finally hit upon its basic meaning in writing Genesis: The Story of Apollo 8. As I said in trying to explain why the astronauts on that mission choose to read the first twelve verses of the Old Testament on Christmas Eve while orbiting the Moon,

These three men had stood on the fringes of human experience, tracing a warm line into the dark and cold emptiness of endless space, and had tried to bring more than mere life to that emptiness.

Their words were not original. They read words that had been written in the dim past by, as some believed, God Almighty.

Those words, however, expressed for these three men a heartfelt belief that the universe was more than mere energy and matter. Not only did a spirit lurk behind the veil of the terrifying black dark that surrounded them, it impelled them to live their lives a certain way, in a certain manner.

Their decision to read from the Bible also expressed, albeit indirectly, their passionate love of freedom. No one told them what to read, and in fact most of the officials at NASA and in the government were completely surprised by their message. And that was how it should be. Borman, Lovell, and Anders were free men, expressing their beliefs freely. While their government might have financed the journey, it could not tell them what to think or say once they got there. If these free men wished to pray aloud to the world's population as they circled the moon, so be it.

Their words also expressed their deep humility and abiding good will. They had been given this glorious opportunity to brag, and instead chose to pray, finding words that would include as many people as possible in the message.

Their voices, beamed across hundreds of thousands of miles by technology inconceivable ten years earlier, resonated with their country's roots as well. The Pilgrims had not merely gone to explore a new land — they had emigrated as families in order to build in that new land a human society.

And so, like the Pilgrims, wherever the three men in Apollo 8 had gone they had brought their families, their religion, and their way of life. In Houston they had found empty fields and built a community. Their lives had echoed the words of John Winthrop, leader of the first Puritan expedition, who as he and his fellow settlers first approached Massachusetts Bay in 1630 had urged them

to do justly, to love mercy, to walk humbly with our God. For this end, we must be knit together in this work as one man. We must entertain each other in brotherly affection….We must uphold a familiar commerce together in all meekness, gentleness, patience, and liberality. We must delight in each other, make others' conditions our own, rejoice together, mourn together, labor, and suffer together, always having before our eyes our commission and community in the work, our community as members of the same body.

[If we do this,] the Lord will be our God and delight to dwell among us….He shall make us a praise and glory, that men shall say of succeeding plantations…we shall be as a city upon a hill, the eyes of all people are upon us.

The community the three men in Apollo 8 wished to bring into the empty reaches of space was an American one, filled with a belief that given two strong arms, a willing heart, and the freedom to follow one's dreams, anything was possible. They, like the Puritans, had put their lives on the line to express this ideal.
To put it more plainly, the American Way aims at building a just and truthful society in which to raise children. No matter what happened, the security, freedom, and prosperity of the next generation — the future — took paramount. It was for this reason my generation, the sixties Baby Boom generation, was raised with more wealth and prosperity and freedom than any generation ever in the entire history of the human race. At the moment of our birth following World War II the American nation was at a pinnacle of success, resulting from a hundred and fifty years of passionate effort by generations of free Americans toiling as families to build a better place for their children. You made your marriage work because to subject your children to the agony of divorce — for something those children had nothing to do with — was not only unjust and cruel, it would damage them badly. Children above all need a secure home to flourish, and it was the American Way to provide that.
Freedom, bounded by such responsibilities, was also required by the American Way. You can't have truth or justice when people aren't free, because without freedom evil people hankering merely for power will have the ability to squelch both truth and justice, as well as the dreams of those future generations.
That in a nutshell is a quick summary of the American Way. Unfortunately, for reasons that are complex and fundamental to human nature but also quite mysterious and tragic, that blessed sixties generation were either not taught these ideals, did not understand them, or outright rejected them. They cared far less about giving their children a secure well-educated foundation. Each person's private desires now took precedent over their children. Sex, drugs, and rock & roll were the rule. The numbers of divorces skyrocketed. And as sociologist and Democratic politician Daniel Patrick Moynihan noted in 1986,
a community that allows a large number of young men to grow up in broken families . . . never acquiring any stable rational expectations about the future — that community asks for and gets chaos.
We are now reaping that whirlwind. This nation and its fundamental ideals are now under vicious attack by the children and grandchildren of the Baby Boomers, who claim they are fighting hate and fascism but are actually hate-filled ignorant fascists in everything they do. Worse they are not simply ignorant (tearing down and defacing in the name of "Black Lives Matter" monuments to Lincoln, Grant, Jefferson, Washington, and former black slaves, all of whom fought for freedom and equal rights), but willfully ignorant. You cannot teach them how wrong they are, because they are certain they are right, and anyone who disagrees with them must be evil and destroyed.
In their hate and ignorance they are destroying the freest, most prosperous, and most capable civilization ever created in human history, a civilization so focused on protecting the rights of the oppressed and the weak that the oppressed and weak have struggled unceasingly to come here.
As violent and as bigoted and as hateful as these mindless radical leftists are, however I have no hate in my heart for them. I feel terrible sorrow at the harm they are doing to themselves and to their own children, who will not grow up as free or as prosperous. I will oppose them with all my might, but I will do so without hate.
I do have however a deep and unquenchable anger, not aimed at these childish barbarians, but at our bankrupt leaders, both from the left and the right.
On the left there has been unqualified support for this destruction and hate. The rioting and looting has routinely been in Democratic Party strongholds, where elected officials have not only condoned it, they have sometimes come out to outright endorse it. When rioters pull down statues of Washington, Jefferson, and Grant the response is not horror but a demand that we rethink our entire past history, because these rioters must be right.
Even Democratic presidential candidate Joe Biden bows to the rioters, now calling for the renaming of every American military base named after a Confederate leader. And if you think this renaming will end there, you are either naive, or willfully blind.
On the right we have had non-action, or even quisling betrayal. Within days of these protests we have had for only one example Senate Republican leader Mitch McConnell (R-Kentucky) kowtowing to the mob.
"I can only speak for myself on this issue. If it's appropriate to take another look at these names I'm OK with that," McConnell said. "Whatever is ultimately decided I don't have a problem with."
Trump meanwhile has condemned the destruction, but he has also done nothing, and has actually called doing nothing his strategy. As he noted during this past weekend's rally in Tulsa about the take-over by Marxist protesters of a section of Seattle,
Now I may be wrong, but it's probably better for us to just watch that disaster (applause). I flew in with some [Republican] congressmen … and said to them, "Congressmen, what do you think, I can straighten it out fast, should we just go in?"

"No sir [they said], let it simmer for a little while. Let people see what radical left Democrats will do to our country."
In other words, let's let the bad guys have their riots and looting and petty dictatorships while instigating their own American Kristalnacht, even as they discredit and destroy the American dream. Better appeasement and bowing to them than face a worse firestorm of protest from them should we move to stop them.
For sure there is something to be said about such a strategy. Assuming the November election is fairly run, and the votes are counted accurately, showing the general public the failure of Democratic leadership certainly seems to be a good strategy.
The danger is that this strategy also assumes a fair and accurately counted election. No one however should any longer assume such a thing from the Democratic Party. They have shown with these riots and protests that they are willing to do anything to gain power, and faking an election will certainly be one of those actions. And their taking over large sections of the country by the use of violence will give them even more power to do exactly that. Do not expect the vote counts in any Democratically-controlled state or city to be reliable. They will be faked, without any doubt.
And the inaction of Trump and his fellow Republicans will have made that possible.
I meanwhile stand by the words that opened that 1950s Superman television show. Those words actually epitomized the American belief that with freedom and honesty and responsibility all things are possible, that it was possible to change the course of mighty rivers, to do great things, to even go to the Moon.
I fear that the generations to come will not be enriched by that vision. They will instead live in a dark age where truth and justice take a back seat to power and oppression.
And it will happen all because we today did not have the necessary courage to stand up for those ideals, but bowed in fear to the violence and hate of our modern leftist despots.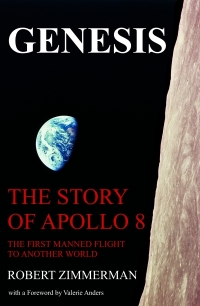 On Christmas Eve 1968 three Americans became the first humans to visit another world. What they did to celebrate was unexpected and profound, and will be remembered throughout all human history. Genesis: the Story of Apollo 8, Robert Zimmerman's classic history of humanity's first journey to another world, tells that story, and it is now available as both an ebook and an audiobook, both with a foreword by Valerie Anders and a new introduction by Robert Zimmerman.
The ebook is available everywhere for $5.99 (before discount) at
amazon
, or direct from my ebook publisher,
ebookit
. If you buy it from
ebookit
you don't support the big tech companies and the author gets a bigger cut much sooner.
The audiobook is also available at all these vendors, and is also
free with a 30-day trial membership to Audible.
"Not simply about one mission, [Genesis] is also the history of America's quest for the moon... Zimmerman has done a masterful job of tying disparate events together into a solid account of one of America's greatest human triumphs."--San Antonio Express-News