Click for interactive map.
A project begun in 2019 to use all the presently available orbital data to compile a global map of the near-surface ice on Mars has now been released that global map, shown by the graphic above, taken from Figure 16.7 from the project's science paper.
The various areas in blue show the evidence of ice down to about 5 meters, or about 15 feet, with darker blue areas indicated ice at greater depth. The study focused on latitudes below 60 degrees latitude, while also blocking out areas above one kilometer in elevation (as indicated in black on the map above). As the paper noted,

[L]ow latitudes reduce the energy needed for landing and launch from the surface for the return trip to Earth. Lower elevations are also desired, as they provide more atmosphere to slow down a spacecraft prior to a propulsive landing. Thus, locating the lowest-elevation, lowest-latitude sites that have significant water-ice deposits is a key consideration in selecting future human landing sites on Mars.
The map above, annotated further to post here, confirms other research that shows ample ice above 30 degrees latitude. However, it also shows extensive near-surface ice in lower latitudes south of the region I label glacier country in the northern mid-latitudes, as indicated on the map. This area is part of Arabia Terra, the largest transition zone between the northern lowland plains and the southern cratered highlands. It also shows that the near-surface ice in the region of the Starship landing zone to be also very deep.
On this map near-surface ice also appears extensive inside the large Argyre and Hellas basins in the southern hemisphere, areas that have not yet been explored as extensively from orbital imagery because of their low elevation and thus thicker atmosphere that produces more haze. Furthermore, the scientists note this important fact:
Intriguingly, several locations near the equator show low to moderate Ci [1–5 m] [indicators of ice]. Many of these locations are associated with the Medusae Fossae Formation, where pedestal craters are observed and where layers of dust might be contributing to the surface-radar signal.
The Medesae Fossae Formation, the largest volcanic ash deposit on Mars, is located just south of the equator due south of the Starship landing zone.
If you want to explore this map yourself, it is available here.
As required by good science, the researchers note repeatedly the uncertainties in this map, mainly because almost everything is based on data from orbit, with a "lack of sufficient ground-truth data with which to calibrate our data products." Nonetheless, the map continues to strengthen the hypothesis that Mars is not a dry desert like the Sahara, but is actually only like the Sahara in the equatorial tropics. Above 30 degrees latitude it is like Antarctica, a desert covered with ice.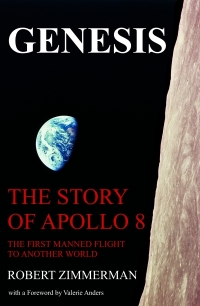 On Christmas Eve 1968 three Americans became the first humans to visit another world. What they did to celebrate was unexpected and profound, and will be remembered throughout all human history. Genesis: the Story of Apollo 8, Robert Zimmerman's classic history of humanity's first journey to another world, tells that story, and it is now available as both an ebook and an audiobook, both with a foreword by Valerie Anders and a new introduction by Robert Zimmerman.
The ebook is available everywhere for $5.99 (before discount) at
amazon
, or direct from my ebook publisher,
ebookit
. If you buy it from
ebookit
you don't support the big tech companies and the author gets a bigger cut much sooner.
The audiobook is also available at all these vendors, and is also
free with a 30-day trial membership to Audible.
"Not simply about one mission, [Genesis] is also the history of America's quest for the moon... Zimmerman has done a masterful job of tying disparate events together into a solid account of one of America's greatest human triumphs."--San Antonio Express-News