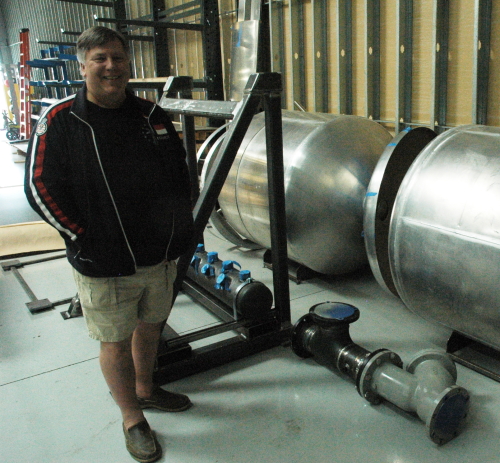 Creating a new rocket company is not something anyone can do. Nor is it something that even smart people can do, nonchalantly. The history of rocketry is littered with hundreds of attempts, almost all of which failed.
Jim Cantrell, pictured on the right standing next to one of the first test prototypes for a new rocket being made by his new company, Phantom Space, is one such person. In the mid-2010s Cantrell partnered with a number of others to found the company Vector, hoping to be one of the first smallsat rocket companies to launch a cheap and efficient rocket placing tiny satellites into orbit. At the time, Cantrell and Vector were racing neck and neck with Rocket Lab for the honor of being the first to do so.
While Rocket Lab succeeded in 2018, and has since completed more than twenty launches, Vector ended up on the ash heap of history, going bankrupt in 2019. The company's failure was mostly due to problems with its rocket engine, which in turn caused one of its major investors to back out.
Cantrell however is apparently someone who does not take defeat quietly. Using what he had learned at Vector, in 2021 he started a new rocket company, Phantom Space, with a target date for its first test launch the summer of 2023.
Today Cantrell gave me a quick tour of Phantom's operations here in Tucson.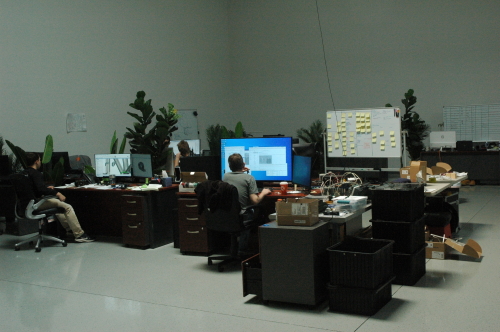 Similar to what I saw of Vector during my first tour there in 2017, the staff is small, the facility is simple, and the atmosphere reminiscent of a bunch of guys working in their garage, though this garage is many times larger than the one attached to most people's homes.
For example, the manufacturing workshop is essentially contained within two very large rooms in a warehouse, with workshop equipment, partially built rocket prototypes, and engineering and management desks each taking up sections of the floor space. The picture to the right shows the desk area, where much of the design and planning is apparently carried out.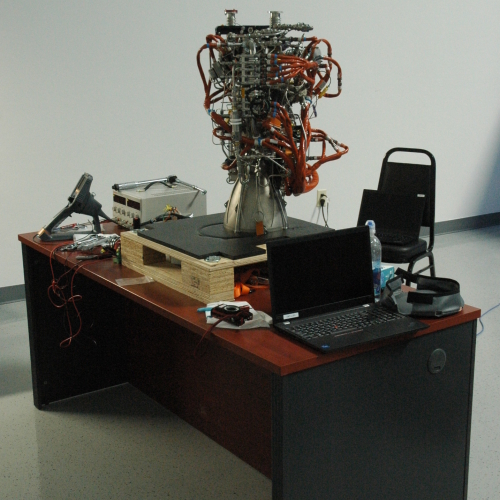 To the right is a picture of the rocket engine Phantom will use in its rocket. Rather than try to build its own engine and risk failure, as happened at Vector, Cantrell decided with Phantom to buy proven engines from someone else. Ursa Major was founded in 2015 with the goal of becoming a new rocket engine company, providing these engines to rocket startups. In March it began delivering flight worthy engines to both Phantom and Stratolaunch. The engine to the right is Phantom's.
Note the simplicity of operation. The engine sits on an ordinary desk as they test the engine's electronics. The engine itself is not simple, but a work of engineering art. While most of its major large components were 3D printed, almost everything you see was hand-built or assembled, with many parts either bought off the shelf or machined to specifications by talented engineers.
Will Phantom succeed? Like all rocket startups, it is dangerous as an outsider to get too enthusiastic. However, the differences I noticed between Phantom and Vector I think bode well for its future. First, I was generally impressed with everyone that Cantrell introduced me to. Like Cantrell, it appears they have all gone through the wars, and have learned what works and what does not. More important, they want to apply that knowledge now at Phantom. For example, Cantrell was very blunt about his own failure at Vector. "It was my fault. I hired the wrong people, and didn't clean house when I should have."
Today he repeatedly told me how he is picking people more carefully at Phantom, finding individuals whom he knows from past experience are not only skilled, but are also enthusiastic and dedicated to doing things right.
Second, Cantrell probably knows the smallsat rocket industry as well as anyone. He is now trying to partner Phantom with several satellite companies, so that like SpaceX and Starlink its profits will come not only from the rocket, but from the payloads it launches.
Only time will tell us whether he can succeed this time.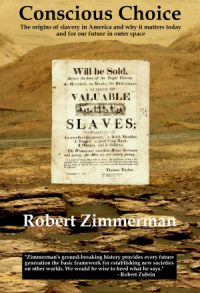 Now available in hardback and paperback as well as ebook!
From the press release: In this ground-breaking new history of early America, historian Robert Zimmerman not only exposes the lie behind The New York Times 1619 Project that falsely claims slavery is central to the history of the United States, he also provides profound lessons about the nature of human societies, lessons important for Americans today as well as for all future settlers on Mars and elsewhere in space.
Conscious Choice: The origins of slavery in America and why it matters today and for our future in outer space
, is a riveting page-turning story that documents how slavery slowly became pervasive in the southern British colonies of North America, colonies founded by a people and culture that not only did not allow slavery but in every way were hostile to the practice.
Conscious Choice
does more however. In telling the tragic history of the Virginia colony and the rise of slavery there, Zimmerman lays out the proper path for creating healthy societies in places like the Moon and Mars.
"Zimmerman's ground-breaking history provides every future generation the basic framework for establishing new societies on other worlds. We would be wise to heed what he says." —Robert Zubrin, founder of founder of the Mars Society.
All editions are available at Amazon, Barnes & Noble, and all book vendors, with the ebook priced at $5.99 before discount. The ebook can also be purchased direct from my ebook publisher, ebookit, in which case you don't support the big tech companies and I get a bigger cut much sooner.
Autographed printed copies are also available at discount directly from me (hardback $24.95; paperback $14.95; Shipping cost for either: $5.00). Just email me at zimmerman @ nasw dot org.