Trying to predict the outcome of today's election in today's world of shallow emotions and partisan bickering is beyond impossible. The pollsters, generally favoring the Democrats, have for months slanted their results to favor Joe Biden. The conservative press, desperate to grasp at any straw, has in turn focused on the early voting numbers, broken down by party, to claim that Trump is leading.
I really don't know which is right, at this moment. Moreover, there is a lot of evidence that we will not even have a result by the end of tonight.
However, I still would like to make some predictions, because there are some things we know are very likely to happen, regardless of who wins the election.

First, should Donald Trump win the White House, even by a vast majority, there will be riots and protests on the streets by the Democratic Party's storm-trooper wings of Antifa and BLM. Businesses will be burned and looted, homes smashed, and ordinary people attacked, merely because these spoiled brats did not get the election results they wanted.
Similarly, the spoiled brats in the Democratic Party will refuse to accept the results, no matter how large the margin of Trump's victory. Instead, they will claim "voter suppression" and voter fraud, with absolutely no evidence, claiming the election was stolen from them. Rather than reassess their political agenda, they will scream and yell, demanding that the result be changed to their desired outcome, merely because, like the looters and rioters, they did not get the election result they wanted.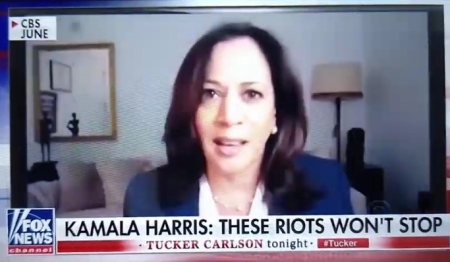 VP candidate and California senator Kamala Harris
calling for more riots.
Nor will things be much different should Joe Biden win, but it won't be Republicans rioting or denying without evidence the results of the election. Instead, we will still get Antifa and BLM riots and looting and violence, because they will now see themselves in charge, and will wish to cement that power by intimidation and threats. Moreover, this jack-booted violence will be egged on by the newly empowered Democratic Party. They won, and therefore anyone who might have even considered opposing them must be a Nazi that these thugs have a right to punch.
At the same time, the Democratic Party will immediately use the endorsement of the electorate to firm up its hold on power, just as socialists and communists have done worldwide repeatedly, every single time the electorate made the terrible mistake of voting them into power. They will move to pass laws that will make it hard for people to oppose them. And for those that do try to oppose them they will work to remove such people from positions of power. Expect the spread of cancel culture throughout all levels of society, based not on opposing real misbehavior but on the simple act of disagreeing with the ruling Democrats.
Things will then go down hill very rapidly, as they did in Venezuela and Russia and Germany and Italy and Chile and North Korea and anywhere else shallow-minded leftists gained control. Their goal really isn't making a better society for everyone, no matter what they claim. Instead, what they really want is power and control to bully everyone else, while structuring society so that any of society's steadily dwindling wealth will funnel into their pockets, and their pockets alone.
Remember, in Soviet Russia roadways had dedicated lanes reserved only for Communist Party officials. Expect the same kind of favoritism to occur under the socialist paradise of the modern American Democratic Party, led by people like Alexandria Ocasio-Cortez and Ilan Omar.
Don't believe me? Then you have been living in a hole for the past four years. Everything the Democratic Party and its minions have done since Trump was first elected in 2016 tells us that they can no longer tolerate any opposition, and given power they will use it to make sure that opposition will never again be able to stop them.
This is the future to expect, one way of the other. We can only hope it is the former, because at least in that case the citizens of the United States will have taken the first step in defeating these power-hungry thugs.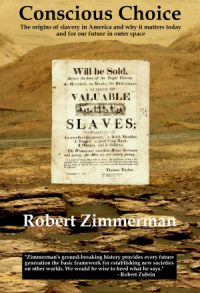 Now available in hardback and paperback as well as ebook!
From the press release: In this ground-breaking new history of early America, historian Robert Zimmerman not only exposes the lie behind The New York Times 1619 Project that falsely claims slavery is central to the history of the United States, he also provides profound lessons about the nature of human societies, lessons important for Americans today as well as for all future settlers on Mars and elsewhere in space.
Conscious Choice: The origins of slavery in America and why it matters today and for our future in outer space
, is a riveting page-turning story that documents how slavery slowly became pervasive in the southern British colonies of North America, colonies founded by a people and culture that not only did not allow slavery but in every way were hostile to the practice.
Conscious Choice
does more however. In telling the tragic history of the Virginia colony and the rise of slavery there, Zimmerman lays out the proper path for creating healthy societies in places like the Moon and Mars.
"Zimmerman's ground-breaking history provides every future generation the basic framework for establishing new societies on other worlds. We would be wise to heed what he says." —Robert Zubrin, founder of founder of the Mars Society.
All editions are available at Amazon, Barnes & Noble, and all book vendors, with the ebook priced at $5.99 before discount. The ebook can also be purchased direct from my ebook publisher, ebookit, in which case you don't support the big tech companies and I get a bigger cut much sooner.
Autographed printed copies are also available at discount directly from me (hardback $24.95; paperback $14.95; Shipping cost for either: $5.00). Just email me at zimmerman @ nasw dot org.