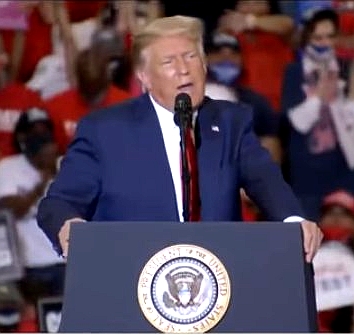 He does what he says.
In my long life, I have seen many politicians come and go. The one abiding constant for them all was that you could expect them to break their promises once elected.
Until 2000 Democrats routinely spouted moderate and even conservative ideas during campaigns, only to quickly move left once elected. Some, like Bill Clinton, lied routinely on all matters, simply to please whoever he was talking to. After he left office Democrats have since been more public about their socialist and even communist ideologies, but still they have often lied whenever they found it convenient, such as Barack Obama's support for normal marriage, until he found he could support perversion and get away with it.
Republicans have been even more dishonest. For decades they would paint themselves as the defenders of small and limited government, of freedom, of balanced budgets, only to throw all those ideas out the window once they gained control. Until 1994 they could make these claims without fear of revealing their untruthfulness, since they had not run both houses of Congress since just after World War II. They were the loyal opposition, whining from the sidelines about Democratic overreach.
After 1994 that excuse disappeared, and the result was blatant lying. Even though the Republican Congress during the latter half of Bill Clinton's administration managed to balance the federal budget for several years, they did not do this by reducing government. No, all they did was allow inflation to catch up so that a thriving economy would cover their big budgets. No agency got trimmed. No agency got eliminated. Power and money continued to flow into Washington and into the pockets of politicians of both parties.
Under George Bush Jr. this dishonesty became even more obvious. Though Bush had Republican control of both the House and Senate for the first six years of his administration, spending skyrocketed, deficits bloomed, and the federal government became even more bloated. And the Republicans under Bush did this despite years of election campaign promises to do the opposite.
The prevarication of Washington politicians however was not simply limited to budget issues. For example, in the 1990s Congress passed a law stating that the U.S. would move its Israeli embassy to Jerusalem, though it also included a weasel clause allowing each President to delay that move if he or she felt it necessary.
For more than twenty years every president, from both parties, campaigned with a platform that promised if elected they would move the embassy. Gore did it. Bush did it. Kerry did it. McCain did it, Romney did it. (I am not sure if Obama did it, but I wouldn't be surprised if he did, and then broke the promise.) In every case the promise was not kept. Even more disgustingly, these same politicians, once elected, continued to funnel large amounts of cash to the terrorist leaders in both the Palestinian Authority and Hamas, money used to fund acts of violence.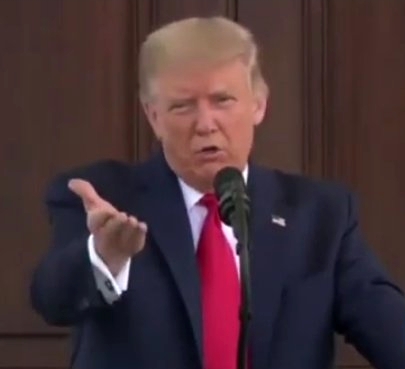 Telling the leftist press off during
a press conference
And then, in 2016, in an upset of historic proportions, a non-politician and an outright businessman, Donald Trump, was elected president, maybe the first true businessman elected to that office in generations, if ever.
Trump ran making a few basic promises. He would reduce the power and size of the EPA, while squelching the federal government's ferocious appetite for imposing new regulations. He would drain the Washington bureaucracy of its worst actors. He would get us out of the Paris climate accords and the Iran deal, while renegotiating the NAFTA agreement created under Clinton. He would appoint conservative judges to shift the courts to the right. He would move our Israeli embassy to Jerusalem, while cutting off any funding with links to terrorism. He would put an end to illegal immigration.
And unlike any elected official in my lifetime, he followed through on every one those campaign promises, heartily and without fear. More important, in every case his actions worked to everyone's benefit.
In the Middle East he ended U.S. funding to Hamas, which has shut off its ability to fund terrorism and to launch rockets into Israel. This action, combined with the move of the American embassy to Jerusalem, made it possible for Arab countries to finally negotiate with Israel, and to recognize its right to exist. There is more likelihood of Middle East peace now than in decades. The bad players are being isolated, and hopefully will soon be removed.
NAFTA was renegotiated. I do not have any idea if the new deal is better, but Trump promised he would do it, and he did.
The porous southern border of the U.S. was sealed to illegal traffic, mostly because Trump finally put hard pressure on Mexico to force that nation to enforce its own border laws, thus blocking the transport of illegals through Mexico to our border.
Trump exited the very bad Paris climate accord, a deal that did nothing to stop global warming or the rise in carbon dioxide in the atmosphere, but was instead designed to crush the American economy while allowing China and others to do whatever they wanted, for decades.
Trump also ended the even worse Iran deal, which had not only funded the terrorism that radical Islamic state was fomenting worldwide, but was acting to stymie any peace agreements between Israel and the Arab world.
Trump appointed more judges than any president in decades, whose qualifications were vetted not by liberal organizations like the ABA but by the very Constitutionally-based Federalist Society.
The power grab by EPA and the climate lobby was finally killed. While the climate lobby still pushes hard in corrupt branches in both NOAA and NASA, they no longer have the power of the entire federal government in their back pocket.
In fact, the only campaign promise that Trump has failed to completely fulfill is his promise to drain the swamp in Washington. He has not cleaned house, though he has made a start. This lack is one of the reasons his first term was embroiled in numerous fake scandals, all instigated by false charges by that swamp.
Other than this one failure, Trump followed through on every one of his major campaign promises. You might not agree with every one of these decisions, but no one can accuse Trump of being mendacious, as have been all politicians for decades. He said what he wanted to do, and then he did it.
More important, he has been very careful to follow the law, and the Constitution, in all these actions. Democrats might routinely accuse him of being a fascist, but that is just another lie these politicians tell routinely.
During the 2016 campaign I had doubts about Trump. His history was that he was a liberal Democrat who only recently switched parties. He often said things that indicated he would be quite willing to make bad deals with the Democratic leadership in Congress. In the end however their own unmitigated hate for Trump pushed him from them, and made him even more conservative than he even knew.
My doubts are now gone. I would vote for Trump in a heartbeat. He might not do everything I want, and he might often be far more crude than I can tolerate, but he above all appears to be honest, something that cannot be said for practically every professional politician, from your local city council to just about every president since Calvin Coolidge. It certainly cannot be said about the Democratic candidates for president, Joe Biden and Kamala Harris.
For this alone, Trump deserves every American's vote.
I say this on top of what I consider the desperate imperative to defeat the Democratic Party at all levels in November. The Democrats are corrupt, a party of lies, of looting, of riots, of bigotry, and of stolen elections. They should be run out of town, at all levels of government.
Vote against the Democrats wherever you can, but also vote for Donald Trump, as it is now clear that he can be trusted to follow through with his promises. A big victory in November will finally give him the power to truly clean house, and drain the swamp, as he promised in 2016.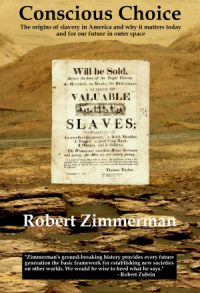 Now available in hardback and paperback as well as ebook!
From the press release: In this ground-breaking new history of early America, historian Robert Zimmerman not only exposes the lie behind The New York Times 1619 Project that falsely claims slavery is central to the history of the United States, he also provides profound lessons about the nature of human societies, lessons important for Americans today as well as for all future settlers on Mars and elsewhere in space.
Conscious Choice: The origins of slavery in America and why it matters today and for our future in outer space
, is a riveting page-turning story that documents how slavery slowly became pervasive in the southern British colonies of North America, colonies founded by a people and culture that not only did not allow slavery but in every way were hostile to the practice.
Conscious Choice
does more however. In telling the tragic history of the Virginia colony and the rise of slavery there, Zimmerman lays out the proper path for creating healthy societies in places like the Moon and Mars.
"Zimmerman's ground-breaking history provides every future generation the basic framework for establishing new societies on other worlds. We would be wise to heed what he says." —Robert Zubrin, founder of founder of the Mars Society.
All editions are available at Amazon, Barnes & Noble, and all book vendors, with the ebook priced at $5.99 before discount. The ebook can also be purchased direct from my ebook publisher, ebookit, in which case you don't support the big tech companies and I get a bigger cut much sooner.
Autographed printed copies are also available at discount directly from me (hardback $24.95; paperback $14.95; Shipping cost for either: $5.00). Just email me at zimmerman @ nasw dot org.