In the third installment of Project Veritas's undercover series exposing revolutionary, pro-gulag, Marxists within the Bernie Sanders campaign structure, we get to watch Martin Weissgerber, a Sanders field organizer, who seems to know more about the history of the Soviet Union than he does of his own country. Worse, that knowledge appears limited solely to Soviet-era propaganda, which Weissgerber seems to take entirely on faith.
He is also all for the idea of suspending Congress and the Judiciary and making a Sanders presidency a dictatorship ruled by decree. He also says, with great enthusiasm, "Guillotine the rich!"
Note also that in my comments about the second installment, I predicted Project Veritas was not finished, and would reveal more such violent, murderous people within the Sanders campaign. I am sure they are not done yet, especially because the Sanders campaign has not only not commented on the first two videos and has done nothing in response. As James O'Keefe says, "Perhaps the reason the [Sanders campaign] has not issued a response is that they know that these are not isolated incidences, they know that these people are not unique in their thinking, they know that more is coming."
I have embedded the video below the fold. As before, I am on my knees pleading with the decent liberal Democrats in my readership. Watch this video and the first and second installments. These people represent what the power structure in the Democratic Party has become. It is not the party you might think it is. In fact, it is likely far worse than you can imagine.


And if you doubt me about this being typical in the modern Democratic Party power structure, read this article on the local Democratic response to the December 10th massacre in a kosher supermarket, followed soon after by the machete attack in a rabbi's home. Money quote:
Joan Terrell-Paige, an elected member of the Jersey City school board responded angrily. She began her response to Gadsen's post by vilifying the city's Jews as "brutes" who oppressed blacks by buying apartments from them.

Then she accused "6 rabbis," of "selling body parts."

Then she accused Jews of planting "drugs and guns" in the black community.

In closing, Terrell-Paige paid homage to the shooters.
When some Democrats in the local Jersey City government protested her comments, the response from the Democratic Party was quite telling:
Jersey City Mayor Steven Fulop and New Jersey Governor Phil Murphy both demanded that Terrell Paige resign. The Board of Education was expected to censure her and call for her to resign at a meeting scheduled for December 19. That meeting was canceled. So were subsequent meetings scheduled for December 23 and December 30. A fourth meeting was scheduled for January 2.

As the board dithered, Terrell-Paige began racking up support. On December 18, the Hudson County Democratic Organization's Black Caucus issued a statement saying, "While we do not agree with the delivery of the statement made by Ms. Terrell-Paige, we believe that her statement has heightened awareness around issues that must be addressed and that should be a topic of a larger conversation by two communities that have already and must always continue to coexist harmoniously."

On December 29, John Flora, a Democratic Congressional primary candidate said, "Rather than hastily demanding her resignation this was an ideal moment for our locally elected to sit down with Mrs. Terrell, clarify her statements, and be prepared to demonstrate empathy."

Terrell-Paige's supporters scheduled a public vigil on her behalf to take place an hour before the January 2 meeting.
Apparently, the modern Democratic Party is now all in with blood-libels and anti-Semitism. As well as gulags and dictatorships and suspending the Bill of Rights.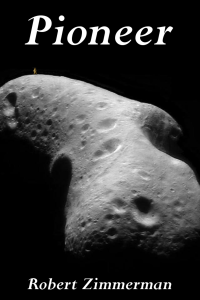 From the press release: From the moment he is handed a possibility of making the first alien contact, Saunders Maxwell decides he will do it, even if doing so takes him through hell and back.
Unfortunately, that is exactly where that journey takes him.
The vision that Zimmerman paints of vibrant human colonies on the Moon, Mars, the asteroids, and beyond, indomitably fighting the harsh lifeless environment of space to build new societies, captures perfectly the emerging space race we see today.
He also captures in Pioneer the heart of the human spirit, willing to push forward no matter the odds, no matter the cost. It is that spirit that will make the exploration of the heavens possible, forever, into the never-ending future.
Available everywhere for $3.99 (before discount) at
amazon
,
Barnes & Noble
, all ebook vendors, or direct from the ebook publisher,
ebookit
. And if you buy it from
ebookit
you don't support the big tech companies and I get a bigger cut much sooner.