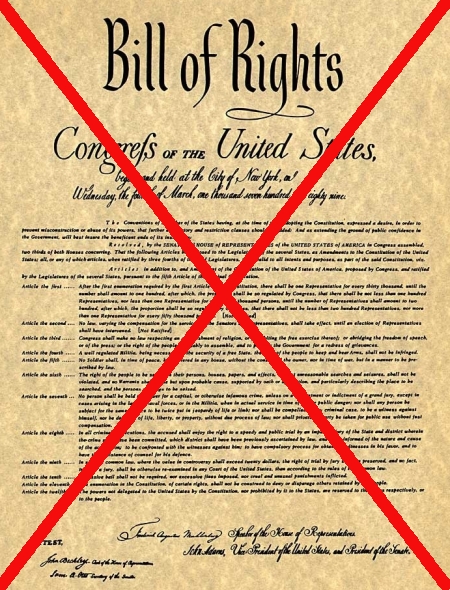 They're coming for you next: Oh boy, it's the 1950s again and its time for witchhunts from Congress and big corporations.
Unlike the 1950s, however, the question will not be whether you have ever been a member of the Communist Party. No, now the question will be much more effective and to the point. It will be "Have you ever been conservative or a member of the Republican Party?"
And as always, today's progressive Democratic Party is on the ball! Congresswoman Alexandria Ocasio-Cortez has revealed members of the House are planning to form a commission to "rein in" conservative media, to prevent them from "spewing disinformation and misinformation."
During a lengthy Instagram Live on Tuesday evening where she revealed that she feared for her life during the siege, the "Squad" member accused the mainstream media of "spewing disinformation" ahead of the deadly riot in which five people died.

"There's absolutely a commission that's being discussed but it seems to be more investigating in style rather than truth and reconciliation," she said. "I do think that several members of Congress in some of my discussions have brought up media literacy because that is part of what happened here," Ocasio-Cortez (D-NY) went on. "We're going to have to figure out how we rein in our media environment so you can't just spew disinformation and misinformation," she said.
Hey, Alexandria, I've got the perfect name for your congressional commission. Why not call it the House Un-American Activities Committee? You could subpoena right-wing writers and journalists to testify against their will in Congress, demanding to know their party affiliations. You could also set up lists of these proven conservatives so that businesses nationwide can blacklist them and keep them from working.
In fact, many of big corporations, their boards dominated by Democrats, are already ahead of the curve, cutting off all donations to all Republicans who simply wanted to find out if there was election fraud in the 2020 election. Other businesses in turn have begun firing anyone who worked for Trump.
It is obvious, Alexandra, that the work will be rewarding and productive. Get that committee going. Send out those subpoenas. Harass those witnesses.
We can't have those evil Republicans poisoning our glorious socialist paradise, can we?
Readers!
In order to remain completely independent and honest in my writing, I accept no sponsorships from big space companies or any political organizations. Nor do I depend on ads.
Instead, I rely entirely on the generosity of readers to keep Behind the Black running. You can either make a one time donation for whatever amount you wish, or you sign up for a monthly subscription ranging from $2 to $15 through Paypal, or $3 to $50 through Patreon, or any amount through Zelle.
The best method to donate or subscribe is by using Zelle through your internet bank account, since it charges no fees to you or I. You will need to give my name and email address (found at the bottom of the "About" page). What you donate is what I get.
To use Patreon, go to my website there and pick one of five monthly subscription amounts, or by making a one-time donation.

For PayPal click one of the following buttons:

If these electronic payment methods don't work for you, you can support Behind The Black directly by sending your donation by check, payable to Robert Zimmerman, to


Behind The Black
c/o Robert Zimmerman
P.O.Box 1262
Cortaro, AZ 85652