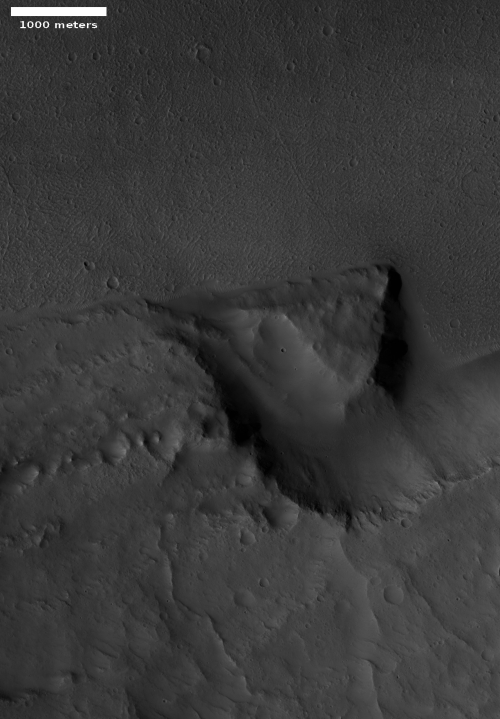 Click for full image.
Cool image time! The photo to the right, rotated, cropped, and reduced to post here, was taken by the high resolution camera on Mars Reconnaissance Orbiter (MRO) on May 13, 2020, and shows what appears to be a giant block that at some point was attached to the cliff, and then broke off and fell away to the north. Subsequent erosion over the later eons widened the break until it now looks like a canyon.
Sounds great, but the event that separated this big piece of mountain, almost a mile across, from its cliffside was possibly even more catastrophic. And it might not have involved a sudden break and fall, but something more spectacular, and also still impossible based on everything we know about Mars.
Uncovering what really happened at this spot on Mars will not only help us understand the geological history of the Red Planet, it could also amazingly enough help illustrate the cultural shifts going on right now on Earth, and how to shift them in a more rational and sane direction.
This image is located near the outlet of Kasei Valles, one of the larger valleys draining downward from the Tharsis Bulge where Mars' giant volcanoes are located. The overview map below shows us what Kasei Valles looks like in this area.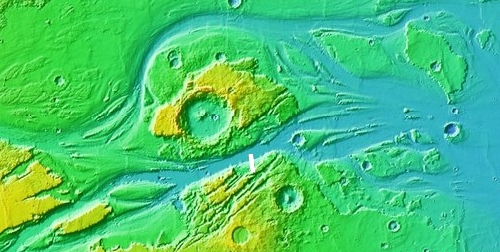 The white rectangle indicates the image's location. From the flow patterns, it sure looks like at one point liquid rushed past this broken block, moving fast from the west to the east. In fact, these flow patterns have been one of the main pieces of evidence that caused planetary scientists to theorize catastrophic floods on Mars, rushing down suddenly from the high country into the low northern plains.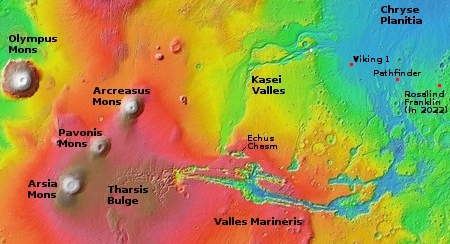 The wider overview map to the right gives use even better context. Once again the white box near the outlet of Kasei Valles, now tiny, indicates this image's location. Like the bigger canyon Valles Marineris to the south, Kasei Valles provides a major drainage basin to the high volcanoes to the south and west. This wide view suggests that the heat of those volcanoes might have suddenly liquefied underground water, which was then suddenly released eastward, pouring down the canyons and out into the northern plains..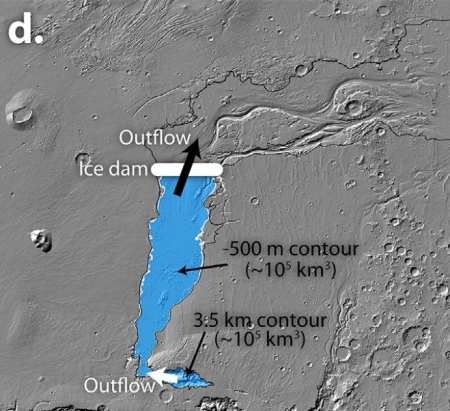 More recent research [pdf] has strengthened these theories. Some scientists now theorize that an ice dam upstream from this location had once existed, as shown on the right from a figure taken from their paper. When that dam finally broke, the water rushed downstream to carve the channels we see here, including the channel that separated the big block from its cliff in the first image above. That flood would have pushed into any crack that might have existed, separating the block from the cliff, quickly widening those cracks into the wide canyon we see now.
It all sounds so good and so simple, and fits all the geology that we see.
The problem is that Mars' thin atmosphere and cold climate makes the existence of lots of liquid water on its surface simply impossible. For almost a half century, since this theory of catastrophic floods on Mars was first proposed — based on this visual data — scientists have struggled to come up with a model on Mars that would make this liquid surface water possible, either by a thicker atmosphere or a warmer climate. So far, no one has succeeded in a way that is convincing. The accumulating data simply doesn't provide for a sufficiently warm or thick enough atmosphere in the past.
Thus, based on everything we know now, these catastrophic floods on Mars never could have happened. Some other process must have acted to carve these features, possibly a process natural to Mars and its lighter gravity, and alien to us here on Earth. Maybe glaciers did this, in ways we do not yet understand or can even imagine, as more recent research is beginning to suggest.
Or maybe not. Maybe something happened that involves data we simply have not yet discovered, making any theory based on it pure fantasy.
Ain't science fun? If you keep your mind open to what the data tells you, it always presents you with mysteries that cannot be answered easily. We need to dig, and dig again, and again, until the truth reveals itself. On Mars it hasn't yet done so, and so we need to keep digging.
Of course, once this truth becomes evident it will almost certainly uncover another mystery that needs solving. That is what makes science — and the universe — fun. As Robert Heinlein once wrote, the universe is "an enormous room, furnished in splendor, though not yet fully inhabited."
Sadly, I fear that people are no longer keeping their minds open to new data. They make a first pass, come to a conclusion (such as the need for masks or that a flu-like disease might become another plague), and refuse to change that conclusion when new data proves it wrong.
Science and civilization require skepticism and a demand to follow the evidence, relentlessly, without mercy, without emotion, wherever it might lead. If our culture stops doing this, we will no longer be able to find truth at all, as we will instead be consumed by our fantasies, based on limited knowledge. Like centuries of past societies that were convinced the Sun orbited the Earth, because it appears to do this in the sky, we will be trapped by false theories based on limited knowledge, limited expressly because we have decided to stop digging.
And if that happens, it will be a far worse catastrophe than any big flood on Mars.
Readers!
I must unfortunately ask you for your financial support because I do not depend on ads and rely entirely on the generosity of readers to keep Behind the Black running. You can either make a one time donation for whatever amount you wish, or you sign up for a monthly subscription ranging from $2 to $15 through Paypal or $3 to $50 through Patreon.
Your support will allow me to continue covering science and culture as I have for the past twenty years, independent and free from any outside influence.
Your support is even more essential to me because I not only keep this site free from advertisements, I do not use the corrupt social media companies like Google, Twitter, and Facebook to promote my work. I depend wholly on the direct support of my readers.
You can provide that support to Behind The Black with a contribution via Patreon or PayPal. To use Patreon, go to my website there and pick one of five monthly subscription amounts, or by making a one-time donation. For PayPal click one of the following buttons:

If Patreon or Paypal don't work for you, you can support Behind The Black directly by sending your donation by check, payable to Robert Zimmerman, to


Behind The Black
c/o Robert Zimmerman
P.O.Box 1262
Cortaro, AZ 85652


Or you can donate by using Zelle through your bank. You will need to give my name and email address (found at the bottom of the "About" page). The best part of this electronic option is that no fees will be deducted! What you donate will be what I receive.