This past weekend Diane and I went hiking, as we try to do at least once a week. With the gyms closed by our petty dictator governor, Republican Doug Ducey, we need to find a way to get out and exercise, both for our sanity and to strengthen our immune systems, since outdoor exercise is probably the most effective way to prevent yourself from getting sick from any respiratory illness.
As we were hiking along a single male hiker, probably in his mid- to late- twenties, approached us from the other direction. When he saw me in the lead, he immediately cringed off to the side of the trail in what seemed literal terror, holding a bandana to his face.
I looked at him in irritation. "You don't need the mask, we don't have cooties and we won't make you sick."
"I don't want to make you sick," he said as I passed him.
"What makes me sick," I responded as I continued past him down the trail, "is the irrational terror and fear I see in everyone's eyes, over something that really is not much more different than the flu."
I will admit to have become somewhat of a cranky grump these days when I see everyone wearing masks. And I feel this way because of the utter mindlessness of mask-wearing. This healthy young hiker, who almost certainly was not contagious in any way with any illness, including COVID-19, was only within four feet of me for about one second. Even if he had COVID-19 and was infectious to me and tried to pant in my face as I went by it would have been almost impossible for him to infect me. We were just not in close enough contact for long enough.
Moreover, he stood there holding the bandana to his mouth and nose, with his hand. That its exactly the wrong thing to do if you want to protect yourself, as your hands are the most likely transmission point for infection, and by pressing his bandana against his face with his hand he risked placing that infection at the very place he breathed.
He might have reduced my chances of getting infected by an infinitesimal amount, but he increased his own risk substantially.
Mask-wearing is just plain irrational, and for intelligent Americans to go along with this silliness is beyond shameful, especially because in almost every jurisdiction, even those that mandate mask use, you can opt out by simply stating you have medical reasons for not wearing a mask, and are not required under HIPPA regulations to even show documentation proving that statement in any way. It must be accepted on its face, without question.
Let's review the absurdity of this situation, and maybe remind people why it is foolish.

First, why are healthy people wearing masks and social distancing? The present theory (which by the way bears no resemblance to the original purpose) is that COVID-19 is especially contagious during the period after a person has become infected but prior to the moment they exhibit symptoms. Thus, a healthy person might pass the disease on without knowing they have it. Masks and social distancing are now being encouraged or required as a way to prevent that transmission during this period, and thus stop the spread of COVID-19.
The problem is that this theory is unproven, and in fact appears to be an outright failure. In the past we accepted the reality that with all such viruses it is impossible to stop such spread. No matter what we do, the virus is going to transmit itself through the general population. And with almost all healthy people under the age of 40, it will pass either unnoticed as the body produces anti-bodies to destroy it, or it will cause that person to become sick but then recover.
And this is exactly what the Wuhan virus is doing now, despite mask use and social distancing. Had we not panicked and tried to slow the spread, the disease would have run its course, as it has in Sweden, and the death toll from the virus nationwide would now be shrinking to practically zero. Instead, in many places where draconian restrictions were imposed the epidemic has lingered on, far longer than necessary. It is even possible that more people are dying because of this, because the older, sicker population that is most vulnerable is being exposed to the virus for a far longer time, before it peters out.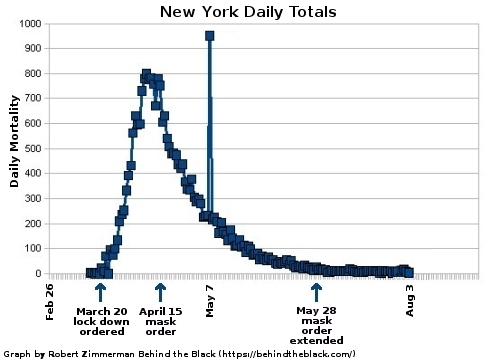 See this essay for a discussion of the suspicious spike on May 7.
And in those regions that have very dense populations, like New York and New Jersey, where their strict lock downs were pointless because they could never really make any difference, the virus did exactly what it did in Sweden, followed a bell curve to peter out so that now it poses little threat to anyone. If anything, probably the safest place against the Wuhan flu these days is the crowded streets and subways of New York.
Researchers at CityMD have revealed to The New York Times that testing in one neighborhood in the borough of Queens found that 68% of people who took antibody tests for the coronavirus tested positive. In addition, a testing station at Jackson Heights in Queens found 56% of those tested had coronavirus antibodies.
It seems that the majority of New Yorkers have pretty much all gotten infected, developed anti-bodies, and thus are no longer an infectious threat.
The irrelevance of government policy can be seen in other places. Neither Sweden nor Holland imposed mask mandates, and in both cases the evidence suggests it mattered not, with the death toll following the same bell curve as New York. The virus is now dying out.
Then there are countries like Peru and Mexico, both of which did impose mask mandates. There virus appears to have taken longer to spread, but spread it did. The spread just took longer.
Meanwhile, there exists no solid research demonstrating the usefulness of masks when used indiscriminately over extended times in public venues. Research indicates instead that they are nothing more than a symbolic gesture, and that they can even be counter-productive.
Social distancing is equally as pointless and as irrational. Worse, it is based on even less scientific research than the use of masks.
It turns out, as I wrote last month, "social distancing" is untested pseudoscience particularly as it relates to halting the transmission of the SARS-CoV-2 virus. On its website, the CDC provides no links to any peer-reviewed social distancing studies that bolster its official guidance.

Both the CDC and the World Health Organization confess uncertainty as to how COVID-19 is spread, further raising doubts about the long term success of social distancing. The agencies claim that respiratory droplets sustained in the air can infect healthy people, but WHO admits it is "assessing ongoing research on the ways that COVID-19 is spread and will continue to share updated findings." Scientists are also unsure about surface-to-human transmission.

That's hardly the sort of settled science that justifies the abrupt and costly disruption to the American way of life wrought by social distancing.
In fact, a review of the history of this cockamamie idea suggests that it actually sprang from a high school research project that was not based on actual data but on a computer simulation comparable to SIM City!
Now, let's go back to the ancient past, back in March, when government health officials began to ask us to social distance. Do you remember the reasons then that they gave for doing so?
That's right. Those reasons had nothing to do with stopping the spread of COVID-19. Then, they recognized the absurdity of saying such a thing, and instead merely called on us to do so to slow the disease's spread. "All we want to do is to flatten the curve so that our health systems are not overwhelmed!"
Saying they only wanted to "flatten the curve" proves that then, these corrupt health officials understood that they could not stop the spread of COVID-19. Then, all they hoped to do was ease its arrival so the system wouldn't crash.
Well, we have succeeded in doing that, and it has gotten us nothing but bankruptcy, lost jobs and businesses, and the nullification of our rights under the Constitution. And if anything, it has increased the disease's impact by lengthening the epidemic unnecessarily. It could very well be that when all is said and done, more people will have died, per 100,000, in those countries that locked down than in those that did not.
Even so, despite the evidence that these mandates have done no good and might even be harmful, despite the fact that we flattened the curve and the health system was not and will not be overwhelmed, the mandates go on with the reasons for imposing them continuously morphing based on no science, and the social pressure to hide behind masks increases.
Worst of all, this social pressure is teaching future generations to fear people, everywhere. I can't tell you how horrible it is on the trail to see children cringe in terror because another person might simply get a few feet away from them and maybe make them sick.
And even amidst this fear, people continue to use masks badly. You need only watch a crowd of people wearing masks for only a few minutes to get confirmation of this madness. For example, go and watch the live stream from yesterday's splashdown of SpaceX's Endeavour capsule. In both mission control and also on the ship that picked the capsule up from the ocean, you can see people finger their masks over and over. At one point I watched as Elon Musk in the control room do exactly that.
This not only contradicts all advice for mask wearing, it might possibly be increasing the spread of respiratory illnesses, as it makes everyone's mask a very unsanitary piece of clothing — covering their mouth and nose — and the equivalent of a pathogen bomb.
So here's a rational approach: If you are sick, maybe you should just stay home, rather than walking around wearing a mask that will be collecting pathogens and thus be a bomb that can make you and many others sick.
If you feel healthy, go out and play. Throw the mask away. And when someone tries to pressure to put one on say no politely and explain to them that you don't wear it for medical reasons. You don't want to increase your chances of getting sick.
But above all, live life bravely and with joy. And stop teaching yourself and your children to look at everyone as a potential disease-carrying leper who must be avoided at all costs. We cannot maintain a sane society teaching these kinds of lessons.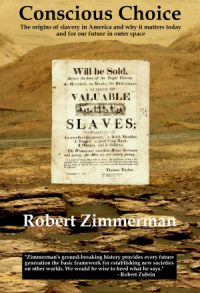 Now available in hardback and paperback as well as ebook!
From the press release: In this ground-breaking new history of early America, historian Robert Zimmerman not only exposes the lie behind The New York Times 1619 Project that falsely claims slavery is central to the history of the United States, he also provides profound lessons about the nature of human societies, lessons important for Americans today as well as for all future settlers on Mars and elsewhere in space.
Conscious Choice: The origins of slavery in America and why it matters today and for our future in outer space
, is a riveting page-turning story that documents how slavery slowly became pervasive in the southern British colonies of North America, colonies founded by a people and culture that not only did not allow slavery but in every way were hostile to the practice.
Conscious Choice
does more however. In telling the tragic history of the Virginia colony and the rise of slavery there, Zimmerman lays out the proper path for creating healthy societies in places like the Moon and Mars.
"Zimmerman's ground-breaking history provides every future generation the basic framework for establishing new societies on other worlds. We would be wise to heed what he says." —Robert Zubrin, founder of founder of the Mars Society.
All editions are available at Amazon, Barnes & Noble, and all book vendors, with the ebook priced at $5.99 before discount. The ebook can also be purchased direct from my ebook publisher, ebookit, in which case you don't support the big tech companies and I get a bigger cut much sooner.
Autographed printed copies are also available at discount directly from me (hardback $24.95; paperback $14.95; Shipping cost for either: $5.00). Just email me at zimmerman @ nasw dot org.