In a column today at PJMedia, Rick Moran discussed in detail the battle going on right now in Arizona for control of the Republican Party. On one side we have Donald Trump and the candidates he has endorsed, led by Kari Lake for governor and Blake Masters for the Senate. On the other we have establishment candidates endorsed by former vice president Mike Pence and Arizona governor Doug Ducey.
Right now, the polls indicated strongly that the Trump side in this battle is going to win the August 2nd primary, and Moran was attempting to pinpoint the fundamental beliefs behind this rift.
The split in the Republican Party in Arizona and almost everywhere else is not a fight over issues. It's not even a fight over Trump. It's a fight over the perception of the party and what it means to be a Republican.

Trump defines the party in terms of loyalty to Donald Trump. And Trump defines "loyalty" as the extent to which you support him — personally and politically. Many Republicans see nothing wrong with that. Others, like Pence, see that kind of cult of personality as unconservative and dangerous. They take a far more traditional view of the Republican Party and want a return to the GOP's roots of supporting God, low taxes, and small government.
In other words, according to Moran, ordinary Republicans are voting for Trump due to hero-worship, while establishment Republicans oppose Trump because they think such hero-worship unhealthy.
Moran's analysis appears to represent the thinking of many Republican pundits. It also represents an analysis that is so wrong and out of touch with ordinary Republicans as to be downright laughable.
People are not voting for Trump-endorsed candidates because a childish "loyalty" to Trump. They are voting for his candidates because — based on his actions as President — they strongly believe those candidates are actually going to keep their conservative promises should they win. Trump did keep his campaign promises, and it appears he is trying to find candidates who will do the same. He knows that Republicans are sick and tired of fake conservatives like Pence and Ducey and the Bushes, who for decades have repeatedly made big conservative promises during the campaign but then have stabbed those voters in the back the minute any Democrat screamed at them.
These fakers simply don't fight, and in Arizona, it is very clear that the candidates whom Pence and Ducey have endorsed are just another bunch of fakers. As soon as they get into office, they will forget all their conservative promises, and team up with the Democrats to maintain the failing status quo.
This is why there is a rift in the Republican Party. The established party has been a failure, and the new upstarts being touted by Trump appear willing to change that. Republican voters have come to recognize that — thanks to Trump — and are now voting accordingly, which is why an enormous number of Republican incumbents have been defeated this primary season.
It is astonishing to find that conservative pundits still don't recognize these facts. Not only will their blindness leave them repeatedly shocked when Trump candidates win, it makes it impossible for them to understand the true dynamics behind this election season.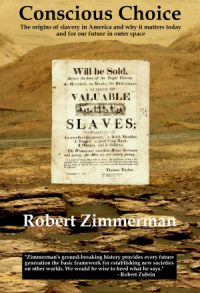 Now available in hardback and paperback as well as ebook!
From the press release: In this ground-breaking new history of early America, historian Robert Zimmerman not only exposes the lie behind The New York Times 1619 Project that falsely claims slavery is central to the history of the United States, he also provides profound lessons about the nature of human societies, lessons important for Americans today as well as for all future settlers on Mars and elsewhere in space.
Conscious Choice: The origins of slavery in America and why it matters today and for our future in outer space
, is a riveting page-turning story that documents how slavery slowly became pervasive in the southern British colonies of North America, colonies founded by a people and culture that not only did not allow slavery but in every way were hostile to the practice.
Conscious Choice
does more however. In telling the tragic history of the Virginia colony and the rise of slavery there, Zimmerman lays out the proper path for creating healthy societies in places like the Moon and Mars.
"Zimmerman's ground-breaking history provides every future generation the basic framework for establishing new societies on other worlds. We would be wise to heed what he says." —Robert Zubrin, founder of founder of the Mars Society.
All editions are available at Amazon, Barnes & Noble, and all book vendors, with the ebook priced at $5.99 before discount. The ebook can also be purchased direct from my ebook publisher, ebookit, in which case you don't support the big tech companies and I get a bigger cut much sooner.
Autographed printed copies are also available at discount directly from me (hardback $24.95; paperback $14.95; Shipping cost for either: $5.00). Just email me at zimmerman @ nasw dot org.